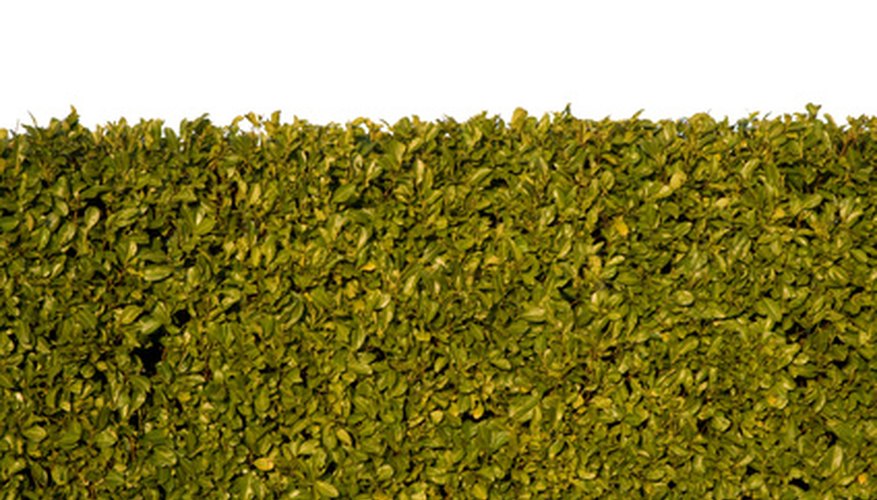 Hedges fulfill many purposes in a home landscape. Some hedges are meant to be decorative. For those, home gardeners usually choose blooming, deciduous perennials. Others are composed of thorny plants, meant to block or protect. Many evergreen broadleaved shrubs have a formal look and feel to them, perfect for lining walkways. Evergreen trees used as hedges are often chosen for screening or privacy purposes. For these reasons, the best plants for your hedge may be determined in part by the purpose of the hedge.
Common Boxwood (Buxus sempervirens)
The common boxwood is a popular choice among home gardeners. This evergreen plant features delicate, dense leaves and is easy to shape. The common boxwood can reach a mature height and spread of 20 feet, but it is usually pruned to remain much shorter. Buxus sempervirens and its many cultivars grow best in United States Department of Agriculture (USDA) growing zones 5 through 8 and in full sun or partial shade. The shrub also prefers cool, moist soils and a location where it is protected from strong winter winds.
Japanese Barberry (Berberis thunbergi)
The Japanese barberry is desirable for its bright green summer leaves that change to a deep red or orange color in the fall. This thorny shrub also features bright red autumn berries, making it a good choice for an ornamental or decorative hedge. Berberis thunbergi will spread rapidly and is very hardy. Although it prefers cool, moist soil, it can easily tolerate drought conditions and pollution. The Japanese barberry grows best in USDA zones 5 though 8 and in full sun or partial shade. The shrub grows to a height of 6 feet if left alone, and a width of 7 feet.
American Holly (Ilex opaca)
American holly is a good choice for a tall windbreak or privacy screen. This attractive tree can grow to heights of 60 feet and is hardy in USDA zones 5 though 9. The American holly plant enjoys moderately moist soil and weather. It thrives in partial shade or full sunlight and should not be planted in very windy, wet or dry areas. This evergreen tree has a pleasing, conical shape and dark green, glossy leaves that are highlighted by the bright red fall berries.
Rugosa Rose (Rosa rugosa)
This shrub, which can reach heights of 6 feet tall, features showy pink, white or red flowers in late spring or early summer. The rugosa rose is extremely hardy and will grow in just about any type of soil--even salty sand--as long as the soil is well-drained. This fragrant plant has a shaggy, charming appearance and is best for informal hedges. Rugosa rose should be planted in a location where it is exposed to full sunlight. The plant is deciduous and grows best in USDA zones 2 through 7.