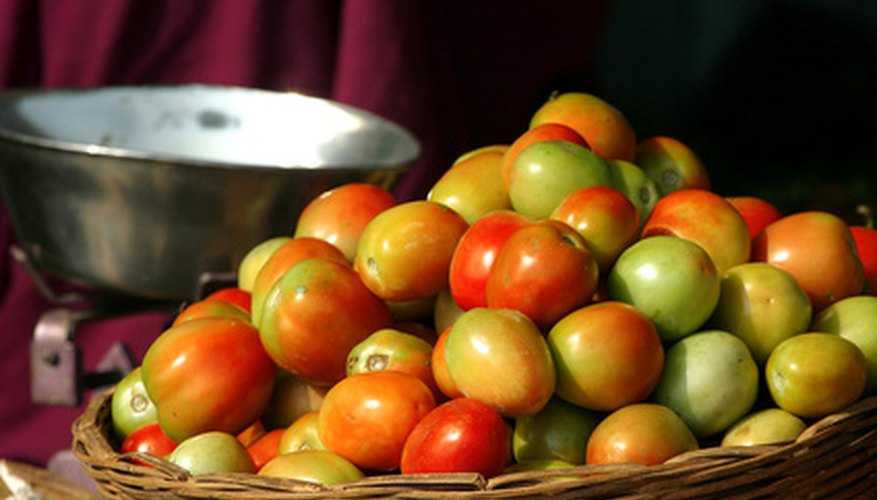 Early Cascade tomatoes produce basket after basket of medium-sized, heart-shaped fruit that wins plaudits from many horticulturalists and hobby gardeners for taste. While California distributor Petoseed discontinued its F1 hybrid version of Early Cascade at the end of 2005, organic seed companies continue to offer F1 and later hybrids, and the Organic Field School in Minnesota works to convert Early Cascade into a non-hybrid seed type.
Type
The North Carolina State University's comprehensive list of tomato cultivars lists Early Cascade as an indeterminate hybrid, resistant to fusarium and verticillium wilts and similar to Early Girl. Indeterminate tomatoes grow until frost, creating longer or taller vines and a continual harvest.
Features
Hobbyists praise Early Cascade's reliability and production, noting vines growing to 8 feet.
Time Frame
Early Cascade matures in 62 to 65 days.
Size
Washington State University reports an average fruit size of just under 2 inches, average weight of 2.37 oz. and a yield of nearly 6 lbs. of tomatoes per plant, with a mild tomato flavor.
Geography
This tomato plant, with its quick maturity, was specially bred for cooler climates and gardening west of the Cascade mountains, which run from British Columbia to Northern California, according to West Coast Seeds in Vancouver, British Columbia. Windrose Farm in Paso Robles, California, also recommends Early Cascade for Pacific coastal and mountain growing. This variety resists fungus in wet climes, according to "Tomato: A Guide to the Pleasures of Choosing, Growing and Cooking" by Gail Harland.
Benefits
Kris Wetherbee of the Vegetable Gardener website rated tomatoes for flavor, disease resistance, productivity, texture and ripening time. Early Cascade was one of six tomatoes to come on top. She praised Early Cascade as a "very early, disease-resistant, and vigorous plant that performs especially well when staked or caged," producing "an almost continuous bumper crop" until the end of the season.