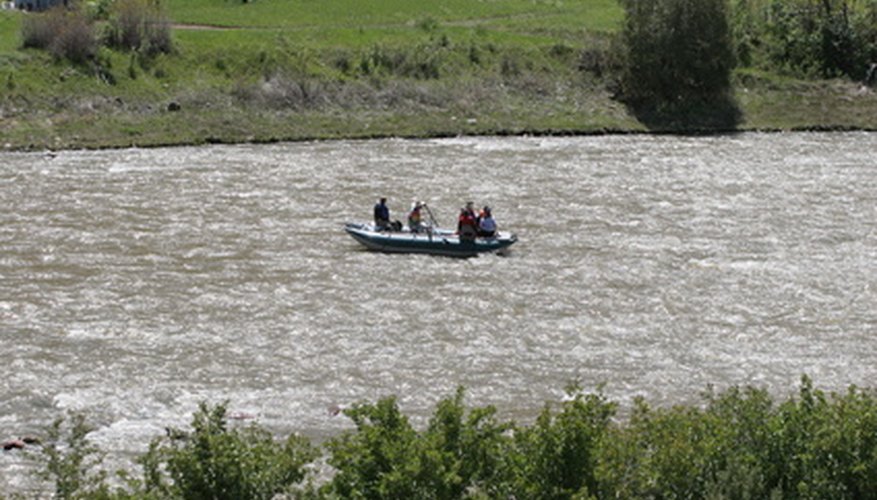 rafting,whitewater,river,colorado river,eagle,colo image by Earl Robbins from Fotolia.com
Native plants that grow naturally along rivers and other waterways offer important benefits, one of the biggest of which is erosion control during flooding events. These riparian areas also provide food and habitat for wildlife and birds. Insects also rely on these plants, and in turn, provide an important food source for fish.
Common Reed (Phragmites australis)
Growing up to 15 feet in height, common reed makes a great native plant for riparian areas throughout the continental United States and Canada. The plant grows so fast that it sometimes takes over the area, so consider this carefully before planting. The plant features long, narrow leaves, with purple or golden flowers forming bushy tops that bloom in mid-summer. The flowers start looking fluffy once the seeds mature, giving the tops an interesting sheen. The plant primarily spreads through rhizome runners that can reach 10 feet or more. The wind and birds also help disperse the seeds to new sites. Common reed grows in almost any type of soil in full sun.
Showy Tick Trefoil (Desmodium canadense)
As its name implies, showy tick trefoil features attractive flowers blooming in July and August. A great plant for wetlands along lakes and rivers, trefoil grows up to 5 feet in height. The perennial plant features hairy, light green leaves with 1/2-inch flowers forming long clusters in the summer. The plant provides food for wildlife as well as cover for deer, ground birds and game birds such as quail, pheasants and turkeys. The plant grows from seed in about any type of soil and full sun to partial shade.
Sweet Flag (Acorus calamus)
Long a favorite of Native Americans, sweet flag thrives along rivers and lakes. The plant, also known as sweet myrtle, muskrat root or calamus root, grows up to 3 feet in height. The plant's foliage looks like an iris with stiff, sword-like, bright green leaves. The flowers consist of protrusions off the sides of the stem covered with tiny white blooms. The native plant, collected by settlers and Native Americans, helped treat headaches, toothaches, and hangovers. The rootstalks also make a sweet treat. Wildlife and waterfowl including muskrats and wood ducks also find the plant useful for food and shelter. Sweet flag grows well in wet soil and full sun.
Canada Anemone (Anemone Canadensis)
Also known as windflower, mayflower and meadow anemone, Canada anemone makes a great shoreline restoration groundcover. The plant grows up to 2 feet in height with beautiful leaves featuring toothed edges. White flowers resembling buttercup flowers, each with five petals and up to 100 yellow stamens, bloom in May and June. The plants spread through rhizomes. Canada Anemone grows well in wet soil and full sun to partial shade.