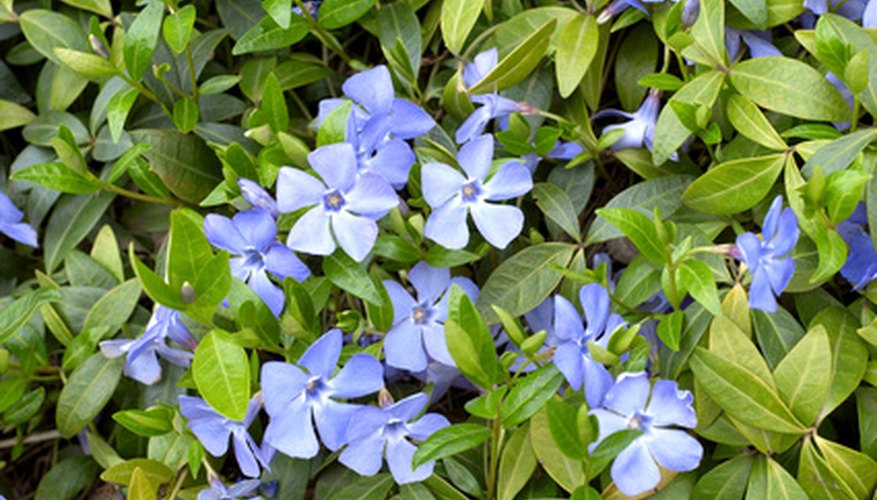 Most people know plants by common names. They are easy to say and remember, and there is little misunderstanding within local communities. However, a problem arises when someone from one region refers to a plant by a different name from what is used by someone from another region. Scientific names solve this confusion by giving a precise two-word designation (genus and species) to each plant, regardless of common name or region.
Creeping Thyme (Thymus serpyllum)
Creeping thyme is an ideal ground cover for sun or light shade and may even be used to entirely replace a small lawn—especially on slopes and difficult-to-mow areas. It is also useful as a planting between flagstones where light foot traffic releases its subtle fragrance. It stays covered with tiny purple flowers from late spring through summer and is perennial.
Bugleweed (Ajuga reptans)
Bugleweed is the name commonly given to this familiar ground cover for light to moderate shade. It grows only two to three inches tall and produces delicate blue flowers in early spring. It prefers a well-drained, rich soil and spacing of between eight and 12 inches for optimal growth. There are several cultivars available, including variegated and bronze-leaved varieties.
Sweet Woodruff (Galium odoratum)
The name says it: odoratum means "fragrance." Sweet woodruff is a sweet-smelling, low-growing (six to 10 inches) plant for deep shade. It has white flowers in spring. The University of Illinois Extension recommends it as an effective and pretty ground cover when paired with spring bulbs and wildflowers in moist, well-drained areas to USDA Hardiness Zone 4.
Genus Sedum (Various Species)
For rocky areas or poor-quality soils—especially in areas prone to drought and arid conditions—try any of the wide range of sedums available on the market. Sedums are succulents that come in many forms, with a broad assortment of flower and leaf colors and textures. These virtually indestructible little plants make excellent cover between paving stones and around patios. With heights from two inches to two feet, there is a sedum suitable for almost any space. They are perennial and hardy as far north as USDA Zone 3.
Periwinkle or Myrtle (Vinca minor)
If you are looking for just one hardy perennial groundcover capable of extending from dense shade into sunny areas of your landscape, periwinkle or myrtle may be the one for you. It is a beautiful, glossy-leaved, low-growing evergreen sporting attractive blue flowers in spring. Vinca is so hardy it thrives in almost every one of the continental United States and even in northern Canada. It will quickly cover ground, but please note that it may become invasive.