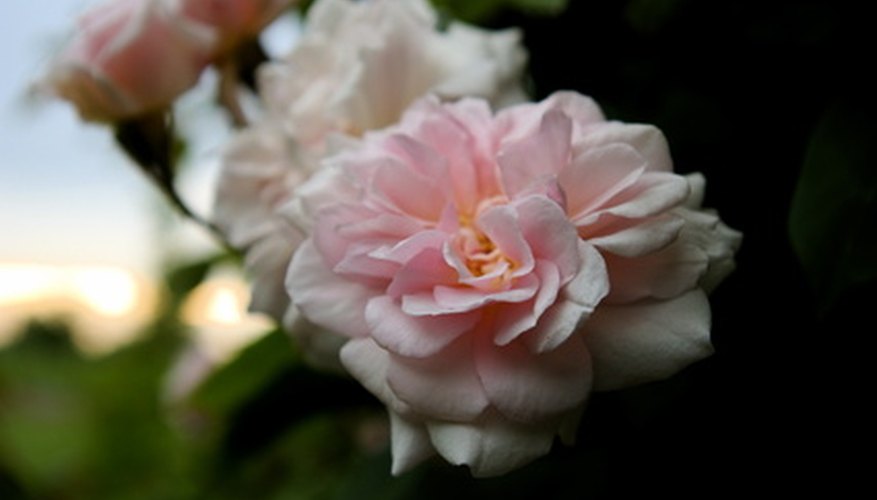 Choosing the right rose depends on your personal taste. There are a wide variety of choices, from "old" roses to newer hybrids. Climbing roses are especially popular with today's gardeners, as they offer a versatile way to grow roses in small spaces. Capable of being cultivated in gardens or containers, these roses are some of the best-suited for growing in the United Kingdom.
St. Swithun
St. Swithun is a light pink climbing rose with a double blossom. It has a strong scent of myrrh, like many of the true English roses, and its repeat blooming habits will result in flowers throughout the growing season. The gray-green foliage is highly resistant to common rose diseases like black spot, powdery mildew and rust. Because this is a very hardy, reliable rose, it is a particularly good choice for beginning gardeners.
Graham Thomas
With its striking, double-yellow flowers and delicate scent, Graham Thomas is a lovely addition to any garden. Extremely disease resistant, it can also withstand heat quite well with no adverse affects. This rose will bloom repeatedly throughout the summer. A short climber, the rose generally reaches 6 to 8 feet.
Abraham Darby
The Abraham Darby is a showy English rose with large apricot-pink flowers that bloom repeatedly throughout the season. It can grow up to 10 feet with a pretty, glossy green foliage and a strong fragrance. It is extremely disease resistant and quite hardy.
Sombreuil
Sombreuil is considered to be an old rose, and often resembles a wild rose. It has large, snow white blossoms that carry a strong fragrance. A shorter climbing rose, it grows vigorously, but usually only reaches about 6 feet.
A Shropshire Lad
A vigorous rose, 'Lad' is almost thornless. The small flowers are a soft peach or light pink with a strong fruit fragrance. It can be trained to be a small but excellent climber, growing up to 8 feet. This is a good choice for difficult gardens as it is hardy and reliable. This rose will occasionally repeat bloom in the later part of the season, but is not a reliable repeater.
Iceberg
The Iceberg rose has long white buds that become double blossoms, with a mild, subtle scent. Fully open, this rose has a prominent cluster of bright gold stamens at its center. It has a strong sweet fragrance and is highly disease resistant. This climber will grow 8 to 15 feet and blooms best on old wood.