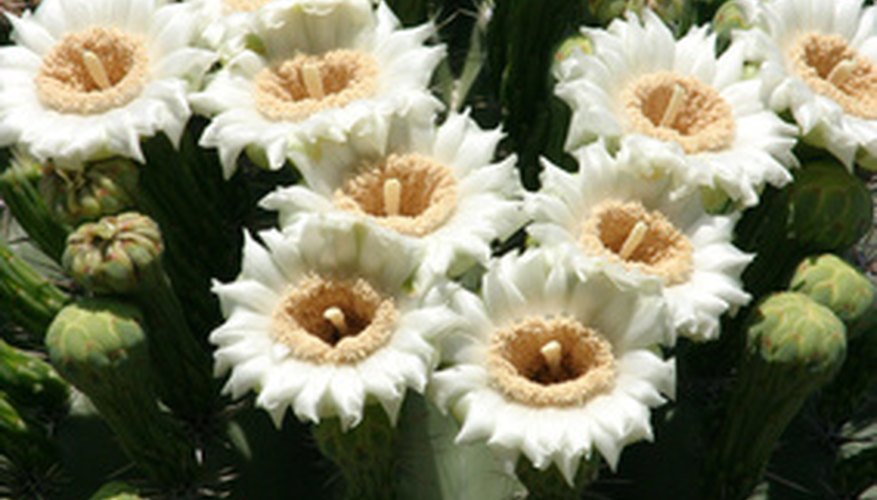 The Sonoran Desert runs along the southwestern corner of Arizona, covering a good portion of the lower half of the state, and extends into Mexico, California and Baja California. The Mojave Desert is at the northwestern corner of Arizona, extending into California, Nevada and Utah. Arizona guards its distinct native desert plants, making it illegal to remove or relocate one without proper authorization from the state.
Saguaro Cactus
The saguaro cactus has the distinction of being the United States' only large, single trunked cactus. Native to the Sonoran Desert, the saguaro's dramatic white flower, which blooms late spring, is Arizona's state flower. A common sight in central Arizona, the saguaro grows primarily on rocky slopes and sometimes on sandy flats. The towering saguaro cactus reaches up to 20 feet high and is an evergreen with long, gray spines. The columnar shaped, slow growing plant's red fruit attracts birds. The saguaro cactus, whose botanical name is Carnegiea gigantean, belongs to the cactaceae family and can live up to 200 years.
Blue Palo Verde
The blue palo verde, a tree native to the Sonoran Desert, provides brilliant color during the springtime with its bright yellow flowers. A semi-evergreen, its foliage is blue-green and fine textured with small thorns. Birds use its branches for nesting. A fast-growing tree, the blue palo verde (Cercidium floridum) reaches up to 30 feet high with an equal width span. Its trunk and stems have a green shade, which darkens and grays with age. Its fruit is a flat seed filled pod, between 1 1/2 and 3 inches long. Over time, the brown pods bleach to white.
Parry's Agave
A succulent native to both Arizona and the Chihuahuan Desert is the Parry's agave, whose botanical name is Agave parryi. The plant's shape is a compact rosette with small sharp tips. Slow growing, a mature Parry's agave will be about 2 feet high by 2 feet wide. During late spring and summer, tall stalks grow dramatically from the succulent, reaching 10 to 15 feet in height. Atop the stalks are pink buds which blossom into bright yellow flowers. Its coarse foliage is a gray green evergreen.
Bush Dalea
Native to both Arizona and Mexico, The bush dalea (Dalea pulchra) produces purple flower clusters from winter to spring, attracting butterflies to its branches. A moderately fast growing shrub, the bush dalea is an evergreen with fine textured silver green foliage, free of thorns. At maturity, the plant will reach about 4 feet high and 5 feet wide.