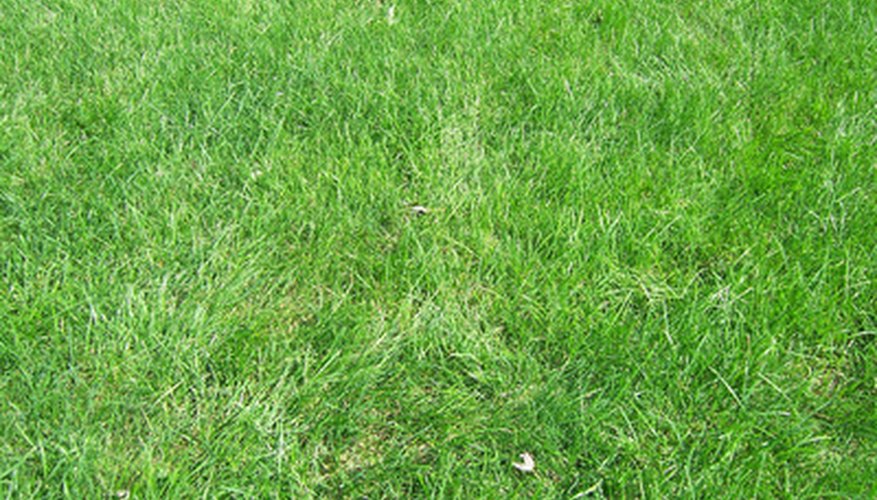 If you live in North Texas, you most likely have a Bermuda grass lawn. Bermuda grass is a warm-season grass that can handle the heat of a Texas summer easily. Warm-season grasses don't stay green in winter, though. They typically brown out at the first frost and stay brown until the last frost has passed. To enjoy a nice, green lawn in the winter months, you need to plant winter rye grass over your Bermuda grass lawn. It will stay green all winter, and when the summer heat returns, it will brown out. The Bermuda grass will then become the dominant grass all summer once again.
Mow your lawn short before seeding winter ryegrass. Ideally, lower the height to between 1/2 and 1 inch to allow ample sun in to the soil surface.
Fill your broadcast spreader with ryegrass seed. Set the dial on the spreader according to the "overseeding rate" on the ryegrass bag. The application rate should be around 5 to 7 lbs. per 1000 square feet.
Spread the ryegrass seed over the entire lawn. Walk in a back-and-forth pattern to ensure total coverage of the lawn. This should be done two to four weeks before the average first frost.
Spread a thin layer of compost or mulch over the entire lawn. The depth should be around 1/4 inch--just enough to cover the seeds.
Water the lawn two to three times per day for five to 10 minutes per watering for approximately 10 to 14 days. After this, watering should only be needed during periods of dry weather.
Mow the ryegrass when it reaches 3 inches in height. Keep mowing every five to seven days and maintain a height of 2 1/2 to 3 inches for optimum turf.
Things You Will Need
Lawn mower

Ryegrass seed

Broadcast spreader

Compost or mulch

Lawn sprinklers

Garden hose

Starter fertilizer

Lawn fertilizer
Tips
To promote faster growth, use a starter fertilizer on the lawn prior to planting, and use regular lawn fertilizer in three-week intervals after planting. Each application rate should be 1/2 lb. of nitrogen per 1000 square feet.

When the heat returns in the spring, back down on the watering to allow the ryegrass to die out and your warm season grass lawn to come to life.