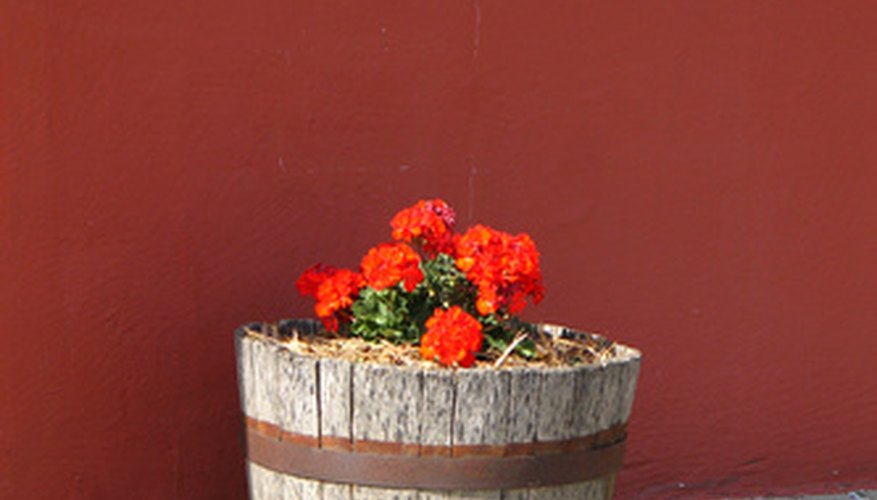 Whiskey barrels offer a host of planting options in the home landscape. Barrels served as one of the first types of container gardens used in the landscape, adding a rustic look to any garden setting. Gardeners use barrels in a variety of ways since the large amount of container space allows plenty of room for deep-rooted plants. Barrel planting ideas include a host of different options for planting combinations as well as positioning of the whiskey barrel.
Tipped Whiskey Barrel
No written gardening law states that a whiskey barrel must be placed upright in the home landscape. Dig a flat area in the garden soil to accommodate the width of the side of the barrel. Retain the soil removed from the site. Tip the barrel onto its side into the indentation. Mound soil around the base of the tipped barrel for stabilization. Fill the pot halfway with potting soil mixture, allowing some to flow out into the garden. Plant away with any combination of flowers or herbs that appeal to your landscape design. Annuals provide an inside profusion of color to accent the barrel. Perennial groundcovers will fill the barrel with beautiful foliage. Make sure to select plants suitable for the sunlight availability in the area.
Perennial Sunken Garden
The sheer weight of a barrel requires the gardener to find a permanent location for this container garden. Installing the barrel into the planting bed adds vertical height to the garden and an interesting focal point as well. Excavate the soil out of a circular area the size of the barrel base to a depth of 4 to 6 inches. Set the barrel into the hole and rotate it slightly to level the planter. Fill the planter halfway with shredded mulch to save money on expensive potting soil. Add a perennial flowering shrub, day lilies or a blend of perennial plants to create an oasis of color in the garden. Most perennials will survive the cold winter months planted in a sunken container.
Annual Display
Barrels may be one of the larger available garden containers. Capitalize on the available space by planting a profusion of flowering annuals in the barrel. Have someone help lift the barrel onto a rolling drainage tray. Add a layer of crushed aluminum cans or mulch to use up some of the excessive room in the planter and pour potting soil on top of the cans. Select a mixture of annuals with trailing growth habits as well as some taller plants. Don't forget the concepts of choosing textured leaves as well as height to give the barrel garden even more interest.