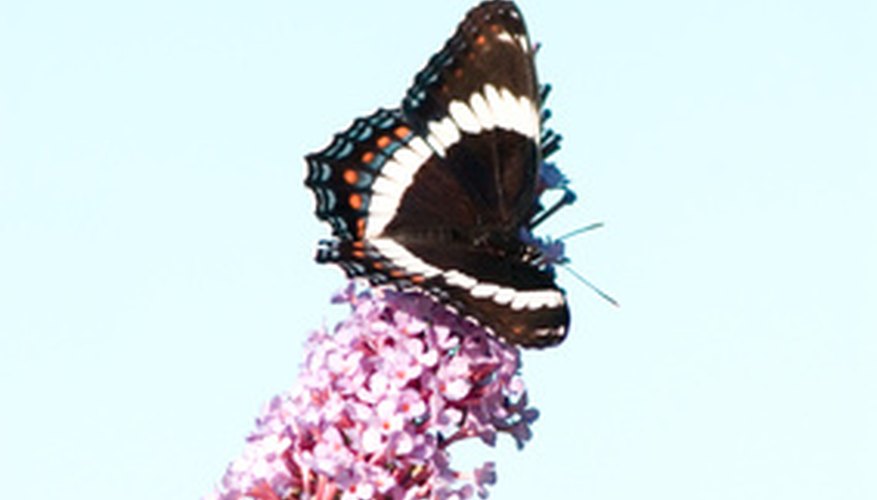 butterfly on butterfly bush image by Scott Slattery from Fotolia.com
Few sights are as dramatic as numerous butterflies feeding on a butterfly bush. Known scientifically as Buddleja davidii, the butterfly bush comes in an array of colors, from purple to red, and can grow up to 12 feet tall and 15 feet wide. Its fragrant blossoms attract butte rflies from afar. It grows best in warmer climates, but can survive in cooler northern regions. You can purchase butterfly bush seedlings from a nursery or garden center, or you can try your hand at growing several from seed.
Place your seed packet in a sealed plastic bag and place in the freezer for at least four weeks. If you have loose seeds, place them in a paper envelope first, then in the plastic bag. This is a process called "stratification," which will help the butterfly bush seeds germinate. Remove the seeds from the freezer eight weeks before your last frost date.
Fill a large seed tray with a commercial seed-starting mix, then water it until it is moist. You want the soil to be damp but not soaked.
Sprinkle the seeds on top of the soil and gently tap them into the soil. Do not cover them with dirt.
Place the tray in a bright, sunny window where the temperature is maintained at roughly 70 degrees. Keep the soil moist by spraying it with a misting bottle. It is important that the soil remain damp and does not dry out. Seeds should germinate within 30 days.
Transplant the seedlings into individual seed pots when they are large enough, which should be when they have four true leaves. Peat pots are good for this, as they can be planted into the soil with the seedling, which helps prevent damage to roots during transplant. Fill the 4-inch tall peat pots 2/3 full with a commercial potting soil mix, insert your butterfly bush seedling and fill the rest of the way with dirt. Keep the soil moist, but not wet, as too much water at this stage can rot the developing roots. As the seedlings get bigger, and are about four weeks along, they will need less water.
Plant outdoors in late spring or early summer, after all danger of frost has passed for your area and the temperatures have begun to be consistently warmer. Plant in a location that receives full sun to light afternoon shade. Soil should be well drained to slightly dry. The butterfly bush can reach a height of up to 12 feet, so keep that in mind when selecting a permanent location.
Loosen the soil with a shovel at least 6 inches deep. Plant the peat pot into the soil, and make sure it is completely covered. If the pot is exposed to the air it can take available moisture away from the roots.
Things You Will Need
Plastic bag

Paper envelope

Large seed tray

Commercial seed starter mix

Misting bottle

4-inch peat pots

Commercial potting soil mix

Water

Shovel
Tip
The height of the butterfly bush makes it an excellent choice for a border plant.
Warning
Sowing butterfly bush seeds directly into the ground does not usually have favorable results. Due to the weightlessness of the seed and the fact that you lay them on top of the soil, they can be easily scattered by wind and rain.