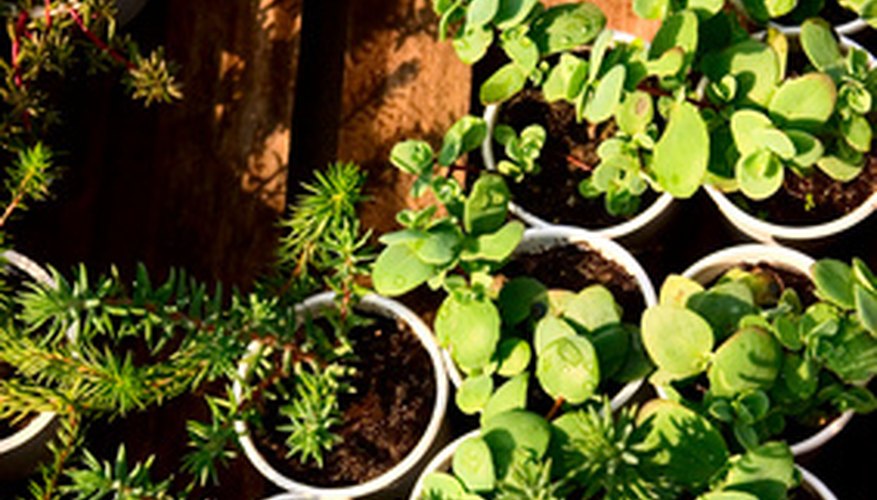 If you are facing an increase in food costs without a corresponding increase in salary, you might be considering growing some vegetables at home to save money. However, if you live in an apartment or your yard is a microscopic patch of grass next to the driveway, your only alternative may be indoor gardening. Plants prefer natural light, but full-spectrum grow lights make an acceptable substitute, and reflective materials or white paint on walls can increase the available light from small windows.
Making a Plant Grow Shelf
Assemble the shelf unit according to manufacturer's instructions. Adjust the shelves as needed to suit the height of plants you intend to grow.
Attach the small "S" hooks and chains that came with the shop lights to the top of each light fixture and hang them from hooks beneath each shelf.
Insert two full-spectrum, grow light bulbs in each fixture.
Cut and lay a sheet of clear, heavy plastic on each shelf to prevent water damage to the light fixtures below.
Growing and Maintaining Healthy Plants
Plant seeds according to directions in appropriately sized pots and set pots in trays on shelves. (Any size pot is fine, but all pots on the same shelf should be the same size.)
Water plants by pouring directly into the trays. (Bottom watering helps prevent mold that can kill emerging seedlings)
Adjust the lights so that they are no more than 6 inches above the tops of seedlings as soon as plants emerge from the soil. (Monitor and readjust lights as the plants grow, maintaining a careful distance to avoid overheating the plants or allowing them to become leggy from stretching to reach lights placed too far above them.)
Place small fans where they can blow across the plants on the shelves. (Plants need air circulation to stimulate growth of sturdy stems and prevent molds and mildew from forming.)
Turn off lights when plants receive a minimum of 10 (but no more than 14) hours of light each day. Like all living things, plants need rest too.