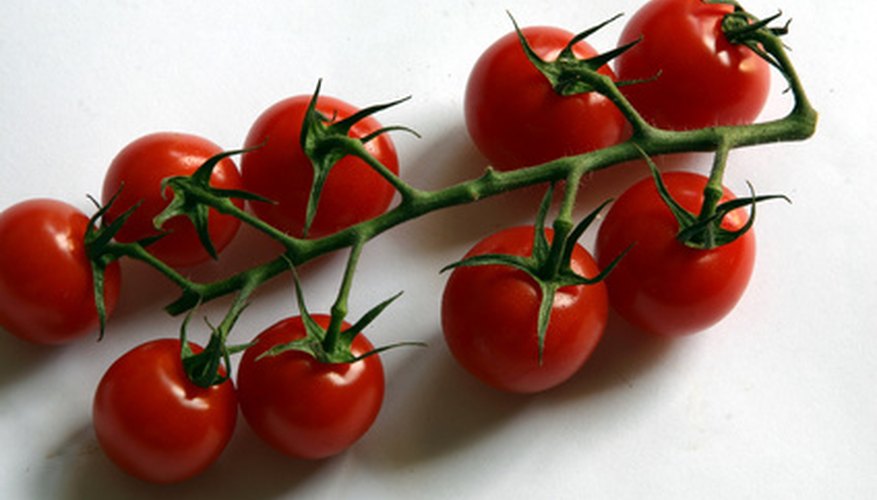 As residents of town homes and apartments try their hand at gardening, or homeowners take advantage of underused spaces under decks and on patios, hanging baskets become part of their approach to vegetable growing. Nontraditional tomato growing is becoming more popular, according to the University of Illinois Extension. Hanging-basket tomatoes make use of limited space and add ornamental value. "Their fruit quality has recently been improved as well," the University of Illinois website notes.
Tiny Tim
Cherry varieties are suitable for hanging baskets, according to Mary Beth Musgrove, Extension associate at the Alabama Cooperative Extension System, and Tiny Tim leads many "best" lists for cherry tomatoes for home gardens, including that of the University of Illinois. This dwarf plant matures to provide 1-inch red cherry fruit 45 days after transplanting to an outdoor basket. Or try Cherry Gold, a golden version of Tiny Tim.
Florida Basket
For hanging baskets in greenhouses, Florida Basket would prove to be a suitable option, according to North Carolina State University and Rutgers. This dwarf tomato, which reaches maturity in 56 days, provides a 1-inch round red fruit with uniform green shoulders.
Super Sweet 100 VF
This cherry tomato wins makes the "best" lists of extension services from Illinois to Florida to Penn State and more. Unlike Tiny Tim, Florida Basket and Cherry Gold, which are determinate tomatoes that will keep a bushy shape and produce a time-limited harvest, Super Sweet is an indeterminate: It produces long vines and will continue until the first frost. The high-producing Super Sweet provides 1-inch fruits in large clusters beginning 70 days after transplanting. Extension service horticulturalists in Florida and at Penn State also recommend Sweet Million, Yellow Pear, Mountain Belle, Shiren, Cherry Blossom, Sun Sugar and Sweet Baby Girl.
Tami G
Of the smaller grape tomatoes, also indeterminates, Tami G wins mention from Penn State, along with Mini Charm, Sugar Snack and Sugary, all maturing in 60 to 65 days. Tami G is "very sweet" with a long harvest, Penn State notes, while the University of Florida praises it for its vigor. Other best grape tomatoes, according to Florida trials, are St. Nick, Santa, Jolly Elf and Cupid, which mature in 59 to 75 days.