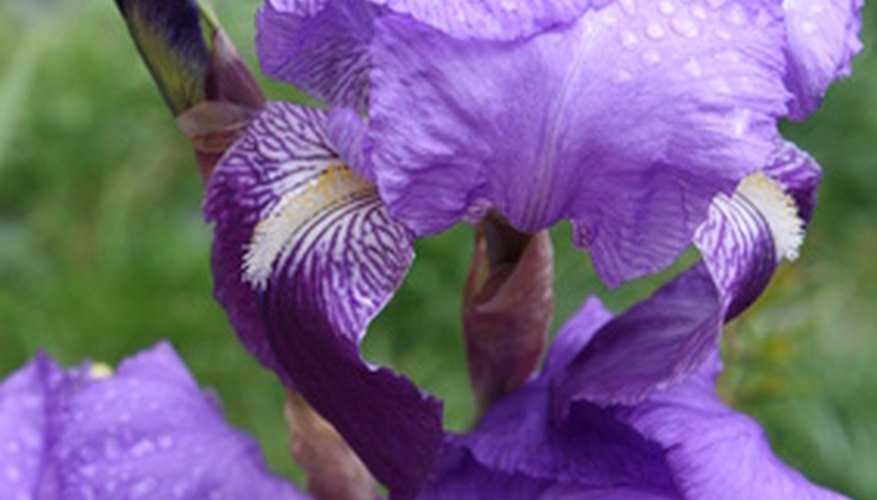 The bearded iris plant is a spring blooming flower that grows from fleshy roots called rhizomes. Bearded iris is available in many varieties and ranges in size from miniature to tall, with a height up to 4 feet. The plant produces long sword-like leaves with large flowers in the color of purple, blue, white or yellow. Bearded iris is a low-maintenance addition to flower gardens and has a long lifespan. The rhizomes multiply in size quickly, which results in propagating by making root divisions.
Plant the bearded iris in a location that offers a nutrient rich, well-draining soil and full sunlight. Set the root rhizome so it is slightly exposed in clay soils and buried in sandy and loam soils. Space the plants 1 to 2 feet apart.
Apply a 1/2-inch layer of compost around the plant each spring to provide nutrients. Do not cover the rhizome if it is exposed in clay soils. Bearded iris plants should not be mulched because mulch holds moisture that will soften the rhizome.
Water bearded iris plants to keep them soil moist until the plant flowers. Do not overwater or cause standing water around the plants. Bearded iris does not require supplemental watering once the flowers have faded.
Cut back flowers stalks to 1 inch above the ground when the flower is spent. Seed pods will form on the spent flowers and pull energy from the rhizome that should be used for flower production.
Fertilize bearded iris with 1/2 cup 5-10-10 fertilizer when flowering is complete. Spread the fertilizer over the soil, being careful to not apply it to exposed rhizomes.
Cut back bearded iris foliage in early fall to a height of 6 to 8 inches. Plant leaves that begin to turn yellow can be cut back sooner.
Propagate bearded iris four to six weeks after flowering is complete. Cut all leaves to one-third the length and dig the entire clump of rhizomes from the ground. Wash the soil off the rhizomes and cut apart sections so they have one to two fans of leaves with a firm rhizome. Discard old and soft rhizomes.
Prepare a new planting area for propagated rhizomes by working the soil to a depth of 12 to 14 inches. Work 3 to 4 inches of organic compost into the soil and dig a hole that is 10 inches wide and 4 inches deep. Set the rhizome into the hole with the roots spread out. Gently cover the rhizome with soil and water well. Set the rhizome in clay soils so it is slightly exposed.
Things You Will Need
Shovel

Compost

Water

Plant clipper

5-10-10 fertilizer