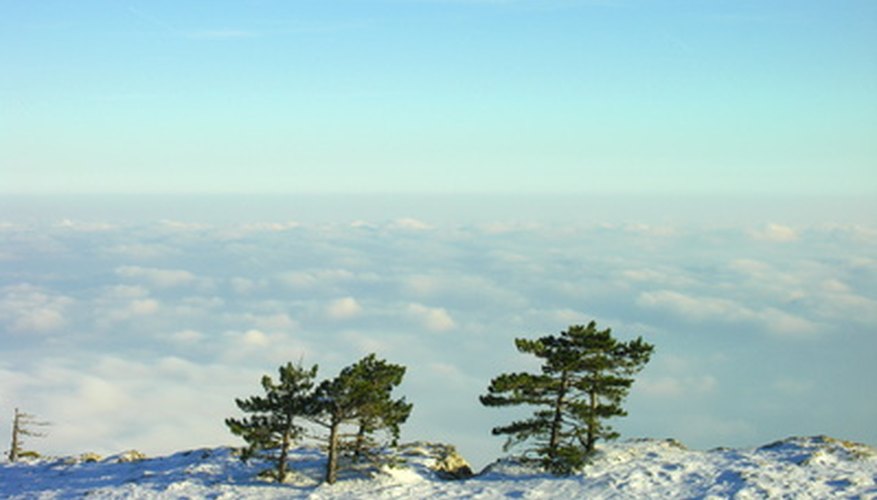 a mountain and strata and cedar image by stapati from Fotolia.com
Plants that have the ability to retain their color and foliage all year long are typically called "evergreens." Evergreens include shrubs, trees, ground covers, and flowering plants. Evergreen plants provide much-needed color to a winter landscape. Tucked along a backyard patio as a screening plant or nestled into a container, evergreens provide vibrancy to the garden year-round.
Blue Atlas Cedar
Blue atlas cedar (Cedrus atlantica 'Glauca') is an evergreen that has a rapid growth rate and medium to fine texture. The open, pyramidal shape and stiff form creates a commanding presence to the landscape. Growing 60 to 100 feet tall and 40 feet wide, blue atlas cedar trees cast dense shade to the ground below. Drought-tolerant, blue atlas cedar trees have silver and blue spiral-shaped needles that are thick. The yellow, barrel-shaped cones on the blue atlas cedar grow 2 to 3 inches long. Blue atlas cedar trees require full sun to partial shade and grow in a wide range of soil varieties, including clay, sandy and dry soils. They do not tolerate wet or poorly drained growing environments. These cedars do well in USDA hardiness zones 6 to 9.
Leyland Cypress
Leyland cypress (x Cupressocyparis leylandii) keeps its needles and color all year long, including winter. Growing 60 to 90 feet tall and 12 to 15 feet wide, Leyland cypress is an ideal plant to grow for a windbreak. Leyland cypress trees have an upright, pyramidal shape that creates a magnificent focal point to the landscape. Leyland cypress trees have upright blue to green needles. Salt-tolerant, Leyland cypress trees can grow in coastal areas. They require full sun and well-drained soil to thrive. The USDA zones for planting is 6 to 10.
Carolina Rhododendron
Carolina rhododendron (Rhododendron carolinianum) is an evergreen shrub with a slow growth rate and medium texture. Growing 3 to 6 feet tall and wide, Carolina rhododendron shrubs have dark green foliage that grows 2 to 3 inches long and, when crushed, provided an aromatic scent. In winter, the leaves on the Carolina rhododendron turn purple to light up the landscape. The white, pink or lilac spring-blooming flowers on Carolina rhododendron grow 3 to 4 inches wide. Carolina rhododendron thrive in part shade and moist, well-drained soil. The zones for planting are 5 to 8.
Cool Climate Evergreens
Japanese yew (Taxus cuspidate) grows 4 to 6 feet tall and 5 to 7 feet wide, Japanese yew shrubs have a slow growth rate and medium texture. Drought- tolerant, the compact, vase-shaped form of the Japanese yew is ideal planted along a front bed or border. The green leaves on the Japanese yew grow in v-shaped rows and up to 1-inch long. Japanese yew shrubs require sun to shade and well-drained soil. Versatile, Japanese yews tolerate a wide range of soil varieties, including sandy soils. The USDA zones for planting is 4 to 7.
Other cool climate evergreens that provide a warm respite to the dreary, colorless landscape of winter are Chinese junipers and singleseed junipers. Both are hardy in zones 4 to 9 and retain their green needles through winter. Blue and American hollies also withstand cooler soil climates and thrive in USDA hardiness zones 5 to 9.