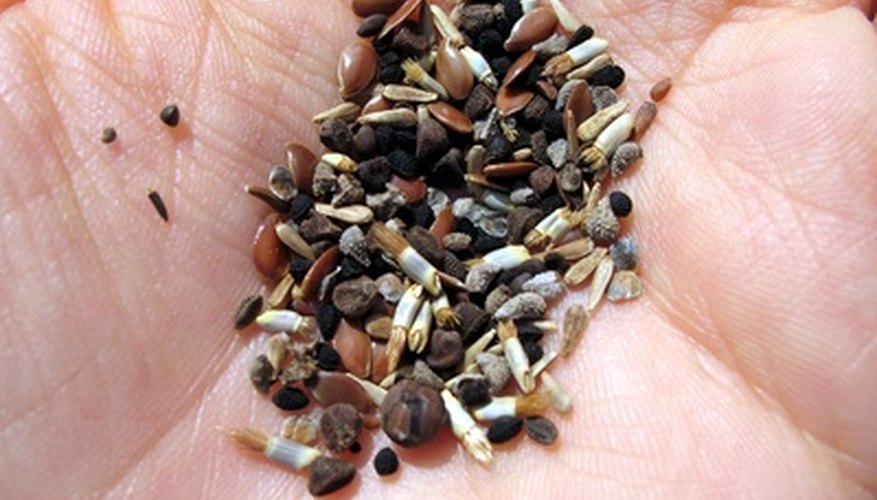 Keep your flower seeds properly stored for planting next year. Storing seeds requires just a few steps of care to control temperature and humidity. To hold flower seeds in a suspended state for years, you must halt the process of germination, which requires heat and moisture, according to Colorado State University. Optimal storage conditions, per Colorado State University, require a humidity level below 8 percent and a temperature under 40 degrees Fahrenheit. A suitable seed storage container may already be in your kitchen.
Rub the dried flower seeds to remove any chaff or dirt still clinging to them.
Add the powdered milk to a cloth bag and close the bag with a safety pin to create a moisture-absorbing packet.
Set the cloth bag of powdered milk in the bottom of the resealable jar. Alternatively, use a silica packet in the bottom of the jar.
Pour the flower seeds on top of the powdered milk (or silica gel) packet in the jar.
Put the lid on the jar and store for one to two years in the coldest part of the refrigerator or in the freezer.
Test your seeds after storage for germination before planting. Dampen two paper towels and place some stored seeds in the center. Roll the towels up and seal in a zipper-top bag. Place the bag in a warm, dark spot for up to two weeks, checking the seeds every two days for signs of growth. Plant the flower seeds once a root "tail" appears.
Things You Will Need
Dried flower seeds

½ cup powdered milk or silica gel packet

Cloth bag

Safety pin

Resealable jar

Paper towels

Plastic bag
Tip
Spread seeds in the sun to dry for six hours or scatter the seeds on a baking sheet and dry overnight in the oven at the lowest temperature setting with the door ajar.