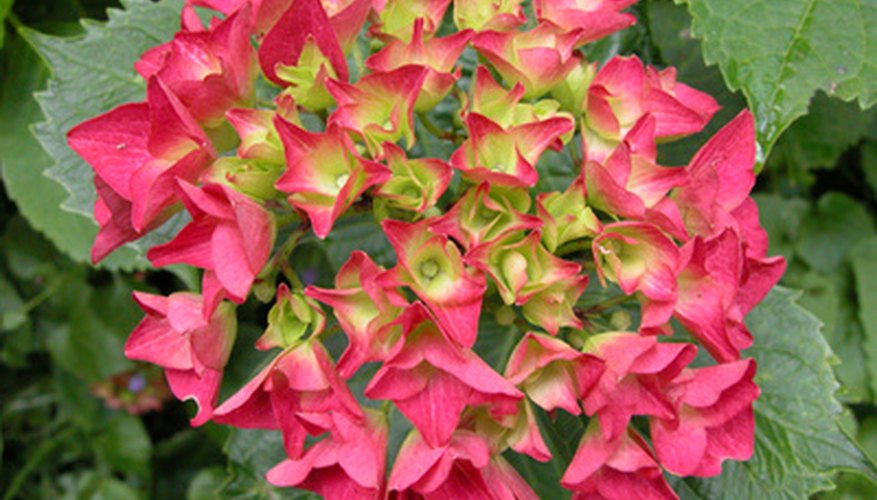 Whether cut hydrangeas come from the florist or from your own flower garden, these big, delightful blooms will add beauty and grace to the indoor environment. A few minutes spent preparing the cut hydrangeas before you arrange the blooms in the vase will extend the life of the flowers, allowing them to remain fresh and lovely for several days.
Cut hydrangeas in the morning, as hydrated blooms will last much longer. Use a knife or garden shears with a sharp blade to prevent tearing the tissues of the stem. Place the blooms in a bucket of water immediately.
Fill the bucket or a large bowl with tepid water, and while holding the hydrangea stem under the water, cut an inch from the end of the stem. Cutting the stem under water will prevent air bubbles from entering the stem. Make the cut at a sharp angle so that more of the stem will be exposed to the water.
Wash the vase with soap and hot water. If the vase is difficult to clean, soak it in a mixture of one part household bleach and nine parts water. Rinse the vase several times to remove the bleach before adding the hydrangeas.
Strip off any leaves that will be under the water when the hydrangeas are placed in the vase.
Fill the vase with very warm water (approximately 110 degrees F). Add a packet of floral preservative and stir to dissolve. Place the hydrangeas in the vase and allow the water to cool before arranging the flowers.
Remove the hydrangeas from the vase every other day. Fill the vase with clean, cool water and add a fresh packet of floral preservative. Hold the hydrangeas under lukewarm water and recut the bottom of the stems, then replace the hydrangeas in the vase.