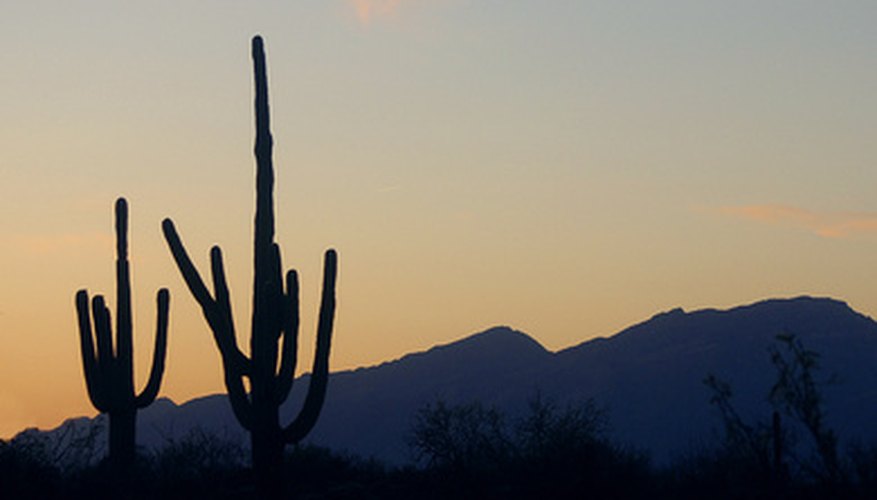 Although much of Arizona is desert terrain, high desert and mountain regions, such as the Flagstaff and White Mountain areas, also exist. Drought-resistant plants do well in Arizona, and some thrive during the winter, soaking up the state's year-round sunshine. When snow blankets other states, much of Arizona enjoys mild temperatures and sunny days.
Brittlebush
Brittlebush comes alive during the winter as daisy-like yellow blossoms cover the silvery-gray shrub. It continues to bloom through spring. Increased rainfall will produce a greater number of flowers, yet the plant requires very little water to survive. Brittlebush, also known as Encelia farinose, grows wild throughout Arizona and is a native of the Sonoran and Mohave deserts. Its natural shape is mound-like and reaches about 4 feet high at maturity. It is an ideal plant for a natural landscape as it produces little litter, requires no maintenance and attracts birds to the garden. Brittlebush thrives in natural, rocky soil without soil amendments.
Red Spike Ice Plant
A native of South Africa, the red spike ice plant (Cephalophyllum 'red spike') supplies vibrant color to a winter garden. It is a slow, low-growing groundcover that requires sunshine and needs little water. When planting in the low desert, select an area with afternoon protection from the sun. The plant grows in clumps, spreading to about a foot wide and less than 6 inches high. It produces coarse, green foliage, and its brilliant red flowers bloom throughout winter to early spring. The red spike ice plant attracts bees, a factor to consider before selecting a location for planting.
Lilac Vine
Lilac vine's purple flower clusters begin blooming during the winter and continue flowering into spring. A native of Australia, lilac vine, also known as Hardenbergia violacea, is a fast-growing vine that does well in full or partial sun and requires little irrigation. At maturity, the plant reaches about 15 feet high and 10 feet wide. It's an evergreen that features dark green, medium-textured foliage. Grow lilac vine along the surface of a wall or peg it down and use the plant as a ground cover.