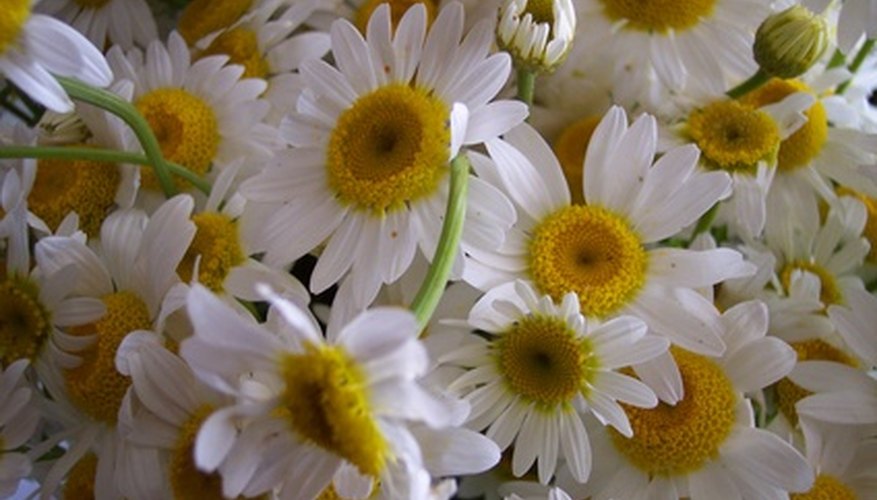 There is no space too large or small for a container garden. Any type of container will do, including clay, terracotta, metal, or stone to match any décor. Plant gerbera daisies in the container and you have a portable spring garden all year long. Daisies are usually grown as annuals, but they can be grown outdoors as perennials in warmer climates. Older plants bloom best, so growing the daisies in containers and overwintering them is the best way to get great blooms.
Planting the Daisies
Scrub out the container with disinfectant to kill any bacteria and fungus and cover the drain holes in the bottom with pieces of clay pot to ensure the water finds its way out. Daisies like well-drained soil, so choose a potting mix with sand; however, if the container will be outside, choose a potting mix that contains one part topsoil, one part peat moss and one part sand.
Daisies need light to germinate, which takes two to three weeks. When planting, press the seeds lightly into the soil surface and water after planting, recommends Barbara Ellis in "Annuals." Allow the soil to dry in between waterings; check the dampness of the container soil every other day. To avoid root rot, do not leave the container sitting in a tray of water between waterings, and make sure the crowns are above the soil after the daisies sprout. Daisies are not prone to insect infestation, but any neglected plant can be attacked by spider mites and aphids. To treat, take the plant outside and apply a mix of insecticidal soap and water to the soil or use a commercial insecticide.
It is better to underfeed potted plants rather than to overfeed. Two weeks after planting, apply a diluted water-soluble or dry fertilizer to the soil and repeat every three weeks thereafter.
Summer Maintenance
Daisies need regular maintenance throughout the year. During the summer, place the flowers in full sunlight and keep the soil moist but not drenched. Regularly deadhead, or remove and spent flowers, and remove any dead leaves. Fertilize the flowers every two weeks during the summer, recommends AA-Florist.
Overwintering
Container daisies are cool greenhouse plants, so keep the daytime temperature between 41 and 50 degrees F and the nighttime temperature at a minimum of 36 degrees F, according to "The American Horticultural Society Encyclopedia of Gardening." Additionally, container daisies prefer indirect light and good air circulation while indoors. Continue to deadhead and remove any dead leaves throughout the winter.