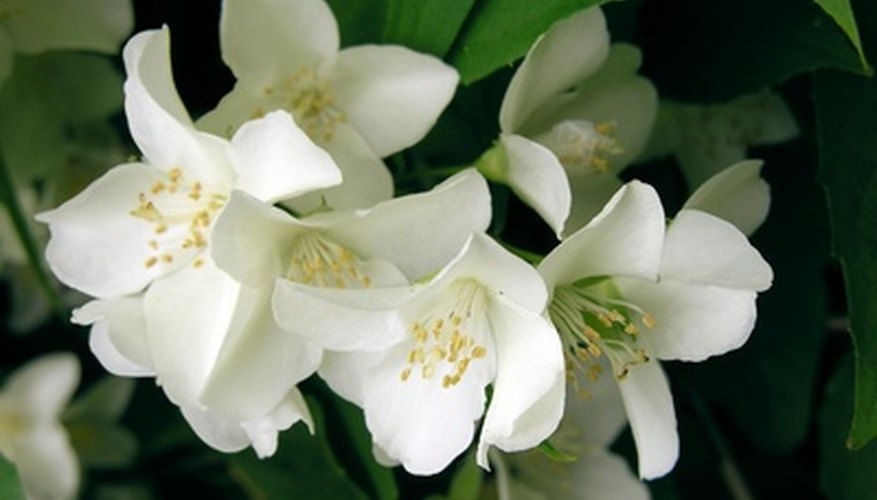 Growing jasmine vine over a panel is an ideal way to hide an unsightly wall or provide privacy between yards. Jasmine vines grow quickly and can produce up to 24 inches of new growth a year. Healthy plants produce small, white flowers with an intoxicating fragrance. A full-grown Jasmine bush can reach 15 feet in height as grow almost twice as long. Jasmine plants should be at least 6 inches tall before growing onto a panel.
Sink two parallel wooden stakes at least 4 inches into the ground. The stakes should be approximately 6 inches apart to provide enough room for your young jasmine plant to grow.
Attach your panel to the wooden stakes with nails or screws. Porous wood panels (such as a garden trellis) provide plenty of area for vines to grasp and are pleasing to the eye. Other options include chicken wire, plastic paneling or wood slats. Use a rust-proof material that is strong enough to support your vine for the life of the plant.
Plant your jasmine in the center of the stakes. Dig a hole as deep as the container and twice as wide. Place the young plant in the center and cover the roots with 1 to 2 inches of soil. Water immediately, then two to three times a week, once established.
Use a plastic twist tie to attach several vines to the panel once the jasmine plant reaches 5 inches in height. Secure the twist tie loosely around the vine with a least a finger's width of open space. This will allow the vine to continue to grow upwards without getting stunted.
Undo previous ties and use them on new growth as vines attach themselves to the panel. Continue tying vines to the panel at various heights as your jasmine plant grows. Check your ties every few months and adjust as needed.