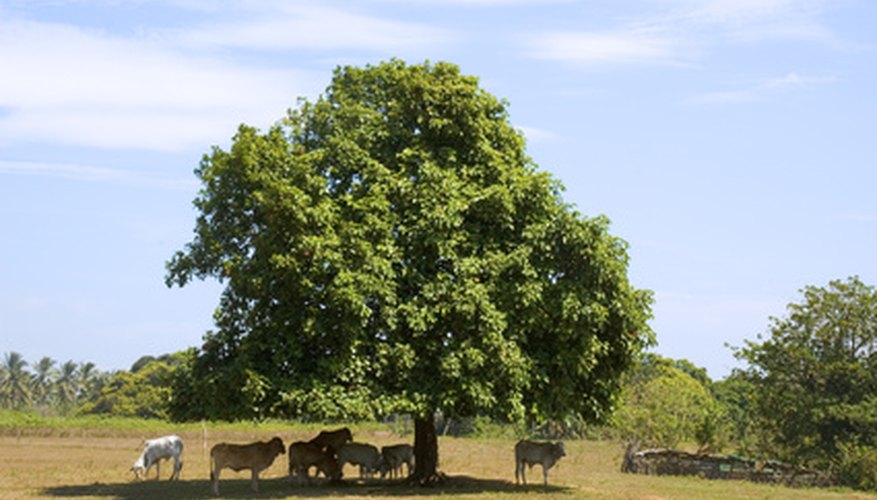 Trees, vines and large shrubs are used to produce shaded areas in landscapes. Trees are the most permanent of plants and can last more than 100 years. Trees usually provide the most shaded areas after they become established. Vines need support of other plants or trellises to provide privacy and shade to an area. Some vines use tendrils to climb while others need to be tied to a framework. Some large shrubs are as tall as small trees and provide localized shady areas. Deciduous plants offer summer shade while evergreen plants provide year-round shade.
Chinese Wisteria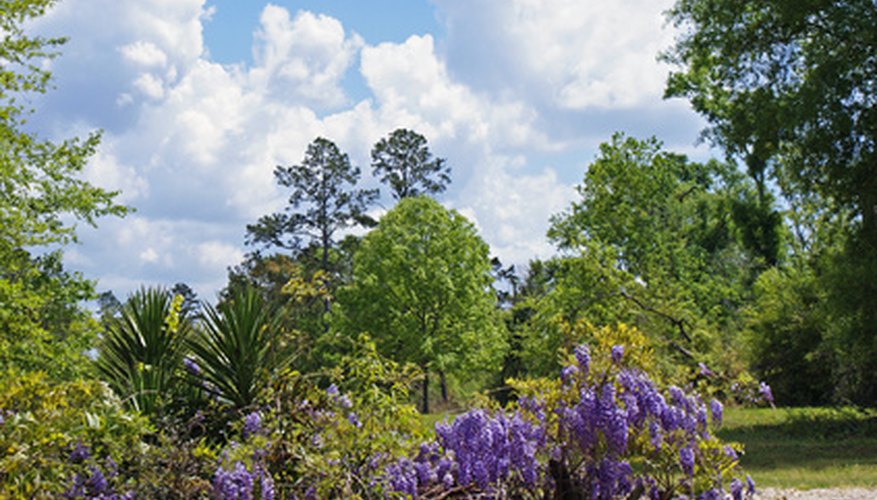 Chinese wisteria (Wisteria sinensis) is a climbing vine growing 40 feet tall with support. The compound, oval leaves are made up of seven to 13 green leaflets. Chinese wisteria produces 8- to 12-inch-long flower clusters formed by several purple and white pea-like blossoms. These flower clusters droop down from the vine in a grape-like fashion. Chinese wisteria is a deciduous plant so it only provides shade throughout the growing season.
Creeping Fig
Creeping fig (Ficus pumila) is an evergreen climbing vine with heart-shaped leaves that change into thick, oblong leaves when mature. Creeping fig reaches 15 to 20 feet tall with the help of a trellis or arbor. This vine grows rapidly when young in partial or full shade. This plant spreads rapidly and turns woody with age. Rejuvenate creeping fig by cutting the vines back to promote new growth. This vine occasionally produces an inedible, plum-sized fig.
Eastern Arborvitae
Eastern arborvitae (Thuja occidentalis) is a slow-growing evergreen tree reaching 40 to 60 feet tall. The green leaves create a ruffled appearance on the ends of the branches and develop a yellow tint during the autumn. This tree grows into a natural pyramid form. Eastern arborvitae adapts to a wide variety of soil conditions. This conifer produces areas of dense shade.
Thornless Honeylocust
Thornless honeylocust (Gleditsia triacanthos var. inermis) is a large deciduous tree growing 50 to 60 feet tall with a naturally round growing habit. The lacy, bright green leaves are 6 to 8 inches long and made up of smaller leaflets. Thornless honeylocust casts light shade, and is a good choice for shading patios and growing plants. This shade tree adapts to a wide variety of soils, withstands pollution and tolerates salty conditions.