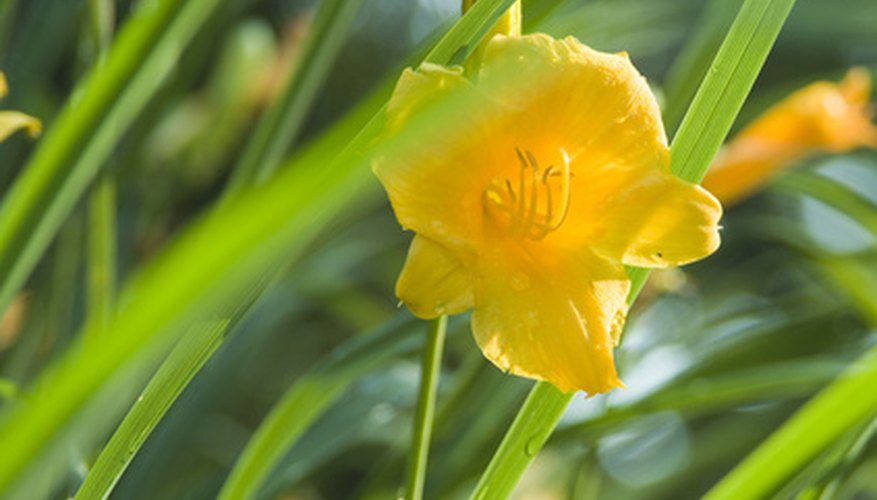 stella de oro day lilly plants image by Jorge Moro from Fotolia.com
Planting on an embankment does more than accentuate the appearance of the landscape. Roots from the shrubs, flowers and foliage help protect your property against erosion. Planting a slope also eliminates the need for mowing in an area where it might be difficult to maneuver a lawnmower.
Timber Planting Beds
Create the appearance of tiers on an embankment with planting beds bordered by landscape timbers. Drill holes and drive rebar into the embankment to anchor the first row of timbers, then stack another row or two of timbers to add height to the border. Join the stacked timbers together with spikes that are placed 2 feet from the joints. Fill in between the timbers and the embankment with the appropriate soil mixture for the plants you are cultivating.
It's not easy to plant on an embankment; select plants that return year after year. Flowering perennials such as lavender, daylilies and blue false indigo are good choices for each of your tiers. Add a mix of low-growing evergreen shrubs so the embankment will always have greenery. After planting the tiers, add a layer of mulch or decorative stone to complete the look, deter weeds, and to help retain moisture.
Planted Rock Garden
Place a few boulders along the width of the embankment to create a rustic, desert style background for the plantings. Scatter a mixture of perennial flowers, evergreen shrubs and flowering shrubs over the span of the embankment between and around the boulders. The plantings will help keep the embankment from eroding and the large rocks add dimension to the space.
Ground Cover
Dot the embankment with low-growing ground-cover plants such as periwinkle, hostas, ivy or creeping juniper. Ground-cover plants spread along the embankment over time, eventually covering the entire space. Select specific ground-cover plants based on the amount of light the embankment receives. Fill in around the plantings with a layer of mulch.
Planting Bulbs
Plant bulbs for spring and summer blooms over the entire embankment. Clusters of tulips, daffodils and iris planted close together grow in bunches during the spring look more natural and make a larger impact than a single flower. Do the same with the summer bulbs such as canna lilies, Asiatic lilies and daylilies. Plant clusters of summer bulbs adjacent to the spring bulbs so that the embankment will have color from early spring to late fall.