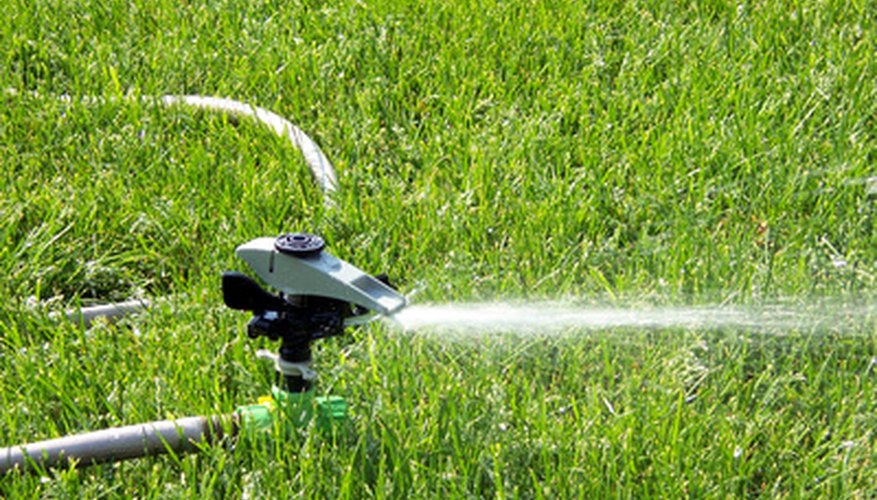 Portable garden sprinklers can be used to irrigate flower and vegetable gardens. Garden sprinklers have the advantage of covering a large area; however, some water is lost to evaporation. The best garden sprinklers can water the garden without overshooting the surrounding area. Using more than one type of sprinkler may be appropriate.
Impulse
The impulse or pulsating sprinkler has a single sprinkler head, making it powerful sprinkler even in low water pressure situations and excellent for large gardens. The pulsating sprinkler makes a clicking sound as it moves in a circular motion. The horizontal coverage area can be adjusted from as little as a few degrees to a complete 360 degrees around the sprinkler. The base of the sprinkler may be a sled design or a stake. An impulse sprinkler may be the best for water conservation since the range of spray can be easily controlled.
Oscillating
An oscillating sprinkler can be adjusted to deliver water at various angles for most efficient use of water. Oscillating sprinklers are typically sled designs with two legs (sled) supporting the spray strip, all horizontal and perpendicular to one another. The range of the spray strip can be adjusted from 180 degrees to just a few degrees. When in operation, the spray arm oscillates (turns) to distribute streams of water over the designated area. Placed in the garden higher than the vegetation, like on a ladder, an oscillating sprinkler can reach a large area.
Whirling
A whirling or rotary sprinkler twirls, sending small streams of water up and out from a center core and from arms extending out from the core. A whirling sprinkler could be used in a small garden and may be more beneficial if elevated.
Stationary
Stationary sprinklers do not spin or oscillate. A stationary sprinkler may be doughnut shaped with a series of evenly spaced holes on the top edge of the ring. Connected to a garden hose, the water sprays up and slightly outward like a fountain, making it suitable for a small garden. If used in a large garden, the stationary sprinkler needs to be relocated to reach all areas. With no moving parts, stationary sprinklers are the least expensive garden sprinklers.