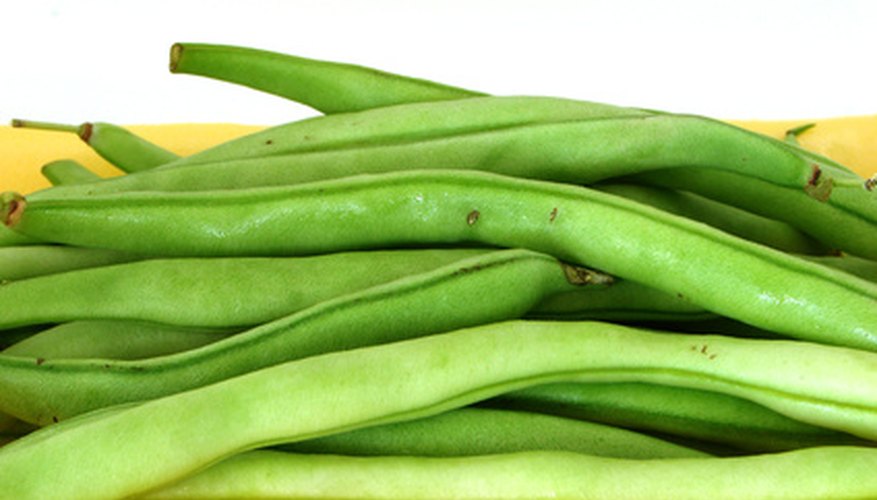 Planting a garden with children can be a fun and rewarding hobby as they see the beauty of their labor when flowers bloom or vegetables ripen. Beans are a good selection for children's gardens, as they germinate quickly and produce hardily. As you work in the vegetable garden with your children, teach them how to plant, care for and harvest their bean plants so they can work more independently each year in their own gardens.
Dig a planting bed. Loosen the soil 6 to 8 inches deep. Have the children help you spread a layer of compost or garden soil over the bed and use the hand trowel to mix the soils together.
Add a trellis or other support system if you are growing pole beans. This trellis should be at least 5 feet tall and secured in the garden to support the weight of your beans.
Plant the seeds 1 1/2 to 2 inches deep, spaced 2 inches apart for bush beans and 4 to 6 inches apart for pole beans. Help the kids use a tape measure or ruler to check the spacing.
Water the seeds well to moisten the soil. Teach the children to touch the soil with their finger first, pushing down 1 inch, to see when it is dry. Beans are thirsty and will need to be watered regularly whenever the soil is dry to the touch.
Keep the area free of weeds throughout the growing season to keep water competition down. Older children can safely use a cultivator to weed along the sides of the bed so long as they don't catch the roots of the bean plants.
Harvest the beans by grasping the stem of the plants with one hand while pulling at the top of the bean with the other. Teach the kids the correct method of collecting the beans to keep them from yanking premature beans from the plant.