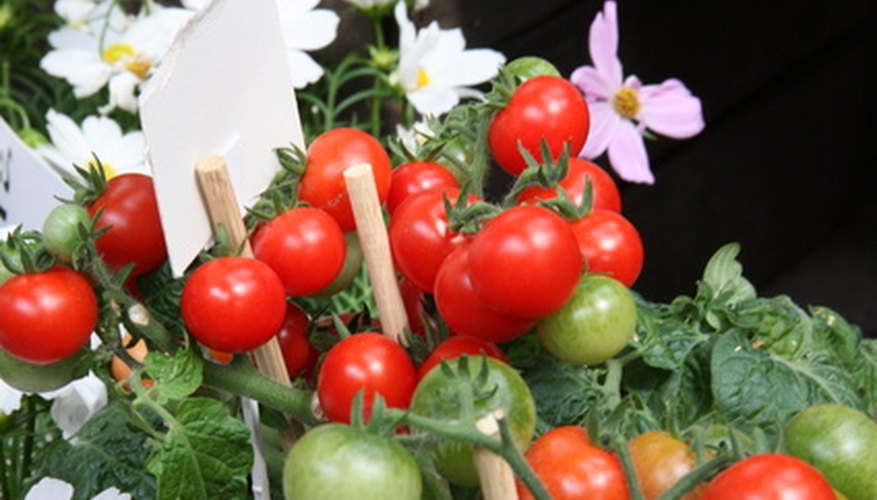 Tomatoes are a popular plant to grow in home vegetable gardens. In Central Texas, to be a successful tomato grower, you need to grow the right variety for your area. Also, you must take a soil test to see what amendments need to be added to your soil for growing tomatoes. Some of the best varieties of tomatoes for Central Texas are Celebrity, Carnival and Merced. Because of the narrow window before the hot weather of summer sets in, tomato plants need to be planted by March 15, but be prepared to protect them from a late freeze.
Prepare an area that receives at least six hours of sun each day to plant your tomato plants. Optimally, an area 3 feet by 3 feet is best for each plant. Remove all weeds and pulverize the soil to a depth of 12 inches. Add soil amendments recommended from the soil test at the recommended rate and cover with 1 to 2 inches of compost. Work the amendments and the compost into the top 3 to 4 inches of soil. Rake the area smooth and add stakes or trellises if growing vine-type tomato plants, known as indeterminate tomato plants, instead of bush or patio tomato plants, known as determinate tomato plants.
Plant each tomato plant individually. Tomato plants are planted differently than other garden plants. Plant tomato plants at an angle where the root base of the tomato plant is 3 to 4 inches below the surface and 80 percent of the stem is buried below the surface. Pinch off any leaves that are below the surface of the soil. Roots develop along the stem in the top few inches of the soil where the most nutrients are located. Cover the stem with soil. It's OK if the top of the plant is at an angle. It will begin to grow straight in a number of days.
Cover an area 10 inches in diameter around the base of the plant with a 1-inch layer of mulch to conserve moisture. Water regularly and do not allow plants to dry out.
Things You Will Need
Tomato plants

Shovel

Hoe

Mulch

Compost

Soil test results