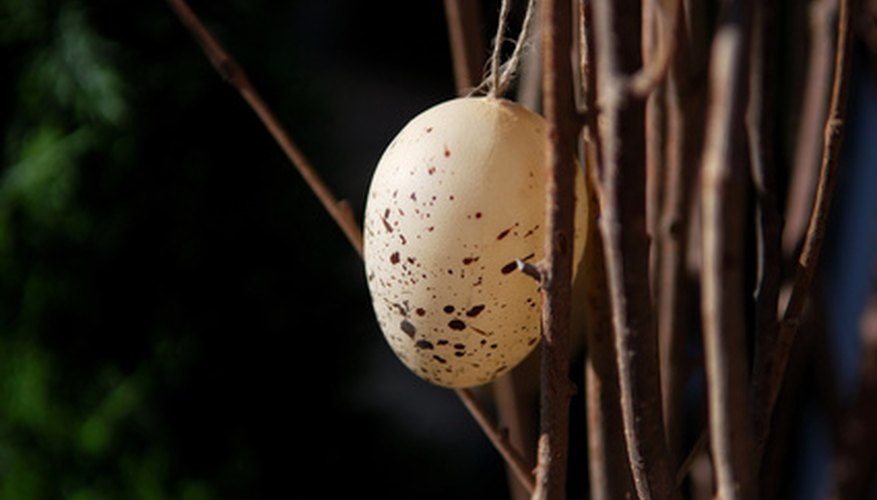 Add charm and appeal of your patio or backyard with a homemade twig trellis. This functional, decorative trellis is a useful way to reuse old, fallen twigs or tree cuttings to support climbing vines. Building an inexpensive twig trellis yourself also allows you to customize it according to your needs and the available space. Make sure you start collecting straight, hardwood twigs from a local park, field or backyard a few weeks prior to assembling the trellis to collect the required amount needed.
Sketch your twig trellis on paper so you know the number of twigs you need and their appropriate lengths. Collect ½- to ¾-inch thick twigs from your local field or park. Make sure they are at least 4 feet tall, as 8 to 10 inches will be inserted in the soil to support the trellis, and the weight of the climbing vine.
Make bundles of same-height twigs and group them together for your diamond-patterned twig trellis. Cut twine into a bundle of 6-inch lengths that will help structure the trellis when you begin assembling it.
Determine where both the corners of your trellis will be, and push a 5-foot-long twig 8 inches deep in the ground at each corner to support the trellis. Also measure the exact center and insert a similar support twig there.
Extend a length of wire several inches above the ground from one corner support twig, through the middle and then to other corner. Pull it taut and knot firmly. This helps keep the twigs straight when you begin assembling the trellis. Also measure and cut a 5-inch spacing twig, and a 3-foot-long height guide twig.
Lay the 5-inch-long spacing guide twig over the ground in front of the support twig inserted in the middle. Push a diagonal twig 3 inches in the ground at each end of the guide, ensuring both are parallel to one another. Also push more diagonal twigs in opposite directions at the bottom of these twigs, so they cross the front of the support twig.
Insert three more twigs diagonally in the same direction as the first twigs, using the 5-inch spacing twig as a guide. Also add three more diagonal twigs but in the opposite direction, weaving them over twigs at each intersection. Knot intersecting twigs at the top, center and base with lightweight twine.
Continue the procedure of adding intersecting twigs until the corner support twigs. Attach twigs to the trellis ends with twine. Hold the 3-foot-long height guide twig firmly on soil level and cut excess twig length with hand pruners so the top of the trellis is level and even.