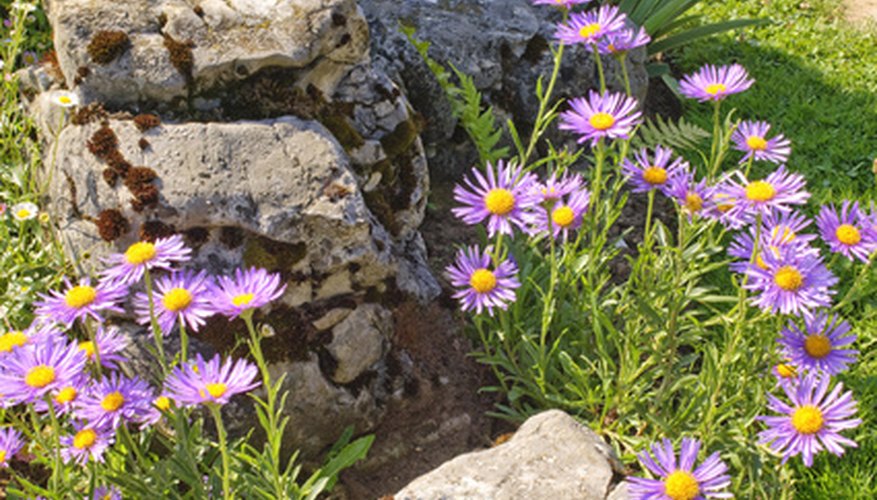 Rocks and Flowers in the Garden image by LaVal from Fotolia.com
Well-placed boulders and rocks can add texture and drama to your landscape. When you are thinking about adding large boulders to your yard, think about the type of rock features that attract your attention and interest. Many expensive hotels utilize large stones in their gardens and fountains. Visit some local examples and take digital photos of the types of stones and arrangements that are being used. Such large hotels often hire well-known landscape architects to design their gardens so this is a way to borrow great design for your own home.
Measure your property. You can purchase 24-inch by 36-inch graph paper at engineering stores and this will allow you to plot the location of your house and property lines on one sheet of paper. Go to a smaller scale if you have a very large property.
Draw in the shape of your home, garage, fences, walls, pools, sidewalks, decks, patios, light fixtures, driveways and any large focal trees. Mark the edges of your property line or gardens. Use round templates to indicate the canopy size of trees and shrubs. Once you are done you will have a working drawing of your existing landscape.
Place tracing paper over the top of your base drawing and make an X mark in each area of your garden where you currently have a focal point. A focal point might be a view, a large tree, a fountain or statue, a gazebo, trellis or fire pit. If your yard does not have a focal point then you might want to consider adding an arrangement of large boulders to create a focal point.
Draw a curved path if you want to incorporate the look of a dry river bed. This type of rock design can start at a distant corner of the yard and meander through the flower beds. Often these will be dug into valleys and lined with smooth river stones. Along the edge of such river beds you can place complementary large boulders. The trick is to have your boulder choice be of a similar type of stone in color and shape.
Draw in your design choices on tracing paper until you have a clear idea what you want. By referring to photos you have of professionally landscaped gardens that use stones, you will also have ideas on the type of look the plants, trees and ground cover should have that will be planted near the new boulders.
Select boulders and stones that suit your landscape plan. Shape your yard to receive your stones and mark the exact placement of your boulders so that you can have the stone company deliver each stone to where it should be in your yard. Be ready to partially bury the boulder to increase its appearance of having been in the yard all along. Simply shovel out the area under the stone and then once the stone is in place, pack the dirt around it.
Things You Will Need
1/4-inch graph paper

Tape measure

Pencil

Straight edge

Circle template

Tracing paper

Photos of landscapes
Tip
Preparation goes a long way to making a landscape feel right. You may change your design once you see it at ground level but if you plan well and choose the right size of boulders and stones for your needs it is likely that your garden will gain stunning new focal points and a natural character you will enjoy for years to come. You can also use rocks for planting borders, walls and steps.