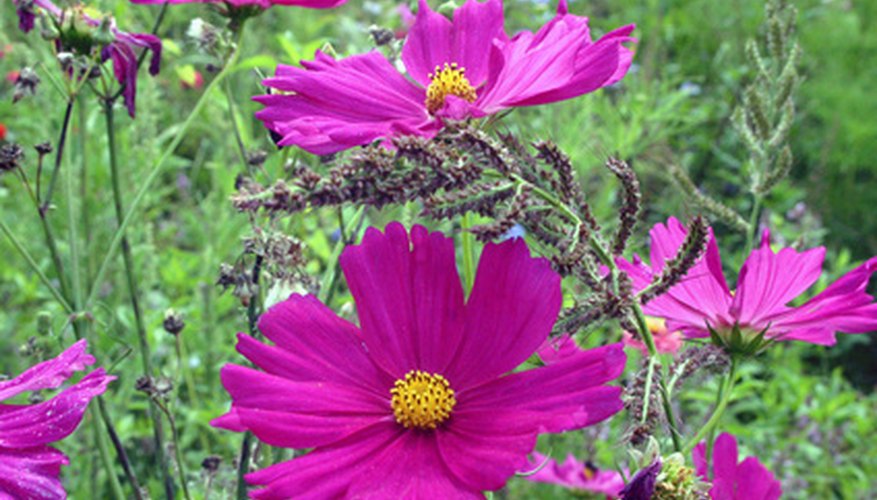 Every flower gardener likes to have a garden that blooms as long as possible during the peak summer season. Many people also have several plant varieties that don't flower, such as some hostas and ferns, and wish to add a splash of color for contrast. Other plants have a short bloom time and a garden variety that blooms throughout the season will keep the appearance of the garden looking well-kept and flourishing.
Wildflower Garden
A wildflower garden is generally a combination of annual seeds along with perennials that will return the following year. Wildflower gardens flourish in dry soils and full sun. The attraction to a wildflower garden is that it contains an array of colorful flowering blooms continuously throughout the spring, summer and early fall. Wildflower combinations include some of the following: purple coneflower, bee balm, lavender hyssop, butterfly weed, black-eyed Susan, baby's breath and prairie dropseed. The end result is a variety of flowering plants with contrasting colors. Whites, greens, bright yellows, orange, yellow, pale purple and pinks make up the color scheme of a wildflower garden. Wildflower seeds can also be planted with perennials and annuals to fill in bare spots in the garden.
Old-Fashioned Garden
An old-fashioned garden is reminiscent of the one your grandmother used to grow. Full of longtime favorites like lilac, peonies, bleeding hearts, lily of the valley, hydrangea, sunflower, climbing roses, hollyhocks, delphiniums, cosmos, lemon fluff, pink coneflower, astilbe and bellflower. Lilacs are shrubs, but the old-fashioned varieties produce colorful and fragrant purple flowers ranging from a pale purple to a deep dark purple. They are spring flower and the flower heads only last for about two to three weeks. Hydrangea is a shrub but provides a longer flower time--generally it will bloom for up to six weeks in the summer months. Hollyhocks are giants in the garden and come in hues of pink, white and yellow, red, orange and peach. Cosmos provide the most show-stopping colors of white, pinks and purples throughout most of the spring, summer and fall months.
Herb Garden
Herb gardens are not always thought of as being colorful in nature. While many plants are strictly foliage, some have colorful blooms while the plant is at its peak or just getting ready to produce a pod. One of the most popular color herbs is lavender. The lavender plant starts off with a beautiful gray-green foliage and then produces tall purple spikes. The spikes range in color from light lavender to a deep purple. Borage, another herb, produces pale blue flowers which add color to a plain herb garden. Calendula has a fluffy, pastel yellow to deep orange flower that it produces at its peak. Rosemary produces either a yellow, white or light blue shade. Thyme is a popular herb and showcases small white flowers. Tarragon also has a colorful trait. With tiny yellowish green clusters, this herb highlights the garden and then accents food such as vegetables, chicken and fish.