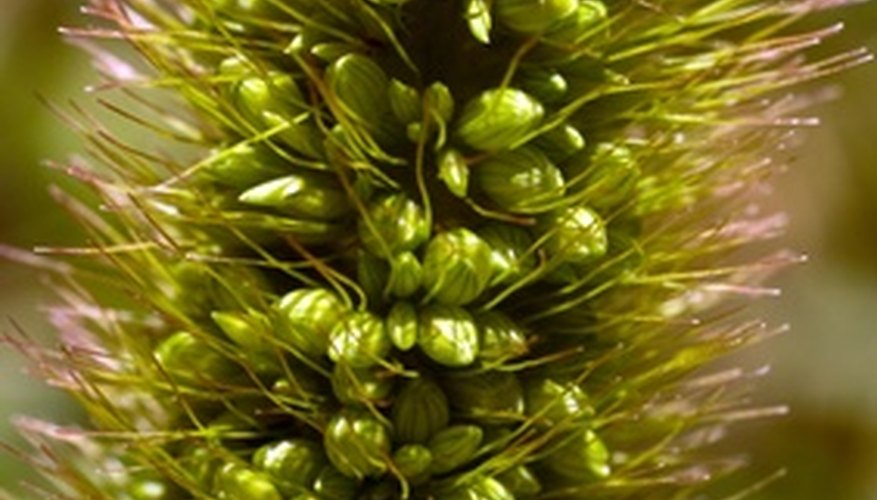 Often viewed as a weed, millet is an essential grain. It is fed as seed to captive and wild birds. Millet seed can be fed whole to poultry, while ground millet is used as a feed supplement for cattle. The stalks are used as hay or they can be cut and added to silage. Millet is a good source of magnesium, providing 24% of the U.S. Recommended Daily Allowance. The Alternative Field Crops Manual states that the various millet varieties grow best on loamy soils and do not tolerate extreme drought.
Cut and store any cover crop before working the area to be planted. Pull and mulch any weeds, adding them to your compost pile. Chop the soil with a toothed rake to provide aeration.
Broadcast millet by hand if the area to be planted is less than a quarter of an acre. Use a grain drill for larger areas. The Alternative Field Crops Manual recommends sowing one inch deep, "...20 lb/acre, or 25 seeds/ft...for proso millet. Foxtail 2 millet should be sown at a rate of 15 lb/acre, or 75 seeds/ft."
Cover areas where you broadcast the seed with loose-weave burlap or contractor's fabric. Cover the edges of the fabric with soil and place stones, branches or other natural objects every two feet to keep the fabric in place.
Position one or more sprinklers to provide a gentle spray over the entire area just planted. Adjust water pressure to ensure that the sprinkler will not wash away your seed. Run sprinklers for one full minute.
Drive stakes into the ground every six to eight feet throughout the seeded area. Tie aluminum pie pans to each stake using kitchen twine. This will help keep pests from eating the seed before it can sprout.
Things You Will Need
Toothed rake

Millet seed

Grain drill

Sprinkler with timer

Loose-weave burlap or contractors' fabric

Stones, branches and other natural objects

Wooden or metal stakes

Aluminum pie pans

Kitchen twine

Sharp knife or scissors
Warning
Avoid feeding millet hay to horses because it can cause lameness and affect kidney function.