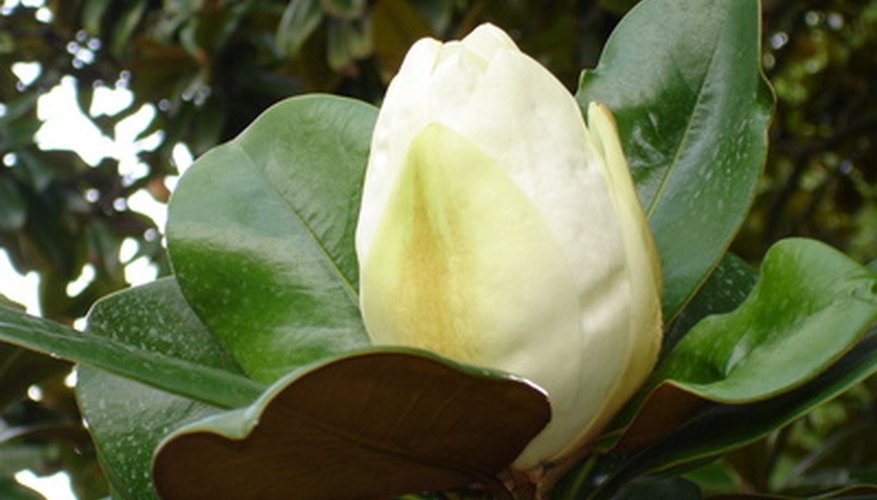 Flowering trees are a beautiful addition to your home landscape. They provide a welcome sign of spring and add a perfect punch of color to an otherwise drab yard after winter. Use well-placed flowering trees to accent areas and draw the eye into the landscape. Take care to choose the right tree for your particular site and enjoy your investment for years to come. Some trees are well known for their profuse flowering over a long season.
Crepe Myrtle
Crepe myrtle (Lagerstroemia indica) are branching, small deciduous trees with 3-inch rounded leaves. Their striking feature is the smooth, brown bark and large, showy clusters of pink, red, purple or white flowers. Crepe myrtles begin flowering in late spring and continue flowering for much of the summer. Grow crepe myrtles in full sun, on various, well-drained soils. Crepe myrtle trees are hardy to USDA zone 7.
Magnolia
Magnolias (Magnolia grandiflora) are beautiful, stately evergreen trees, growing up to 100 feet tall with 50 to 60 foot spread. Magnolias have 8-inch, thick, leathery, very glossy leaves and fragrant, very showy, waxy, white flowers, up to 8 inches wide. Magnolias begin flowering in spring and continue sporadically throughout the summer. Grow magnolias in full sun for the best flowering or in part shade in various soils. Magnolia is hardy to zone 7.
Flowering Dogwood
Flowering dogwood (Cornus florida) is a small deciduous tree with a rounded canopy of foliage, growing up to 40 feet tall. Dogwoods have slightly crinkled, light green leaves with good fall color in northern locations. Very showy, white bracts (petal-like leaves) surround small dense heads of flowers during spring before leaves expand. Grow flowering dogwood in full sun to partial shade in nutrient-rich, well-drained, acidic soils. Flowering dogwood is hardy to USDA zone 4.
Eastern Redbud
Eastern redbud (Cercis canadensis) is a deciduous tree growing up to 40 feet tall, but commonly seen 20 to 30 feet with somewhat equal spread. Redbuds have 6-inch, papery leaves and dark, purple-red flower buds on stems, branches and trunk from late summer until spring, when rose-pink clusters of flowers appear for two to three weeks before leaves emerge. Grow eastern redbud in full sun for the best flowering to part shade, in nutrient-rich, well-drained soils. Eastern redbud is hardy to zone 5.
Chinese Fringe Tree
Chinese fringe trees are small evergreen trees or shrubs, reaching 12 feet high with equal spread. Fringe trees have 2-inch rounded leaves and fragrant, white-yellow clusters of flowers with fringe-like petals. Cultivar Pizzazz has dark purple foliage, and Razzleberi has purple foliage which later turns green. Red flowers are produced on some cultivars. Chinese fringe trees are hardy to zone 7.