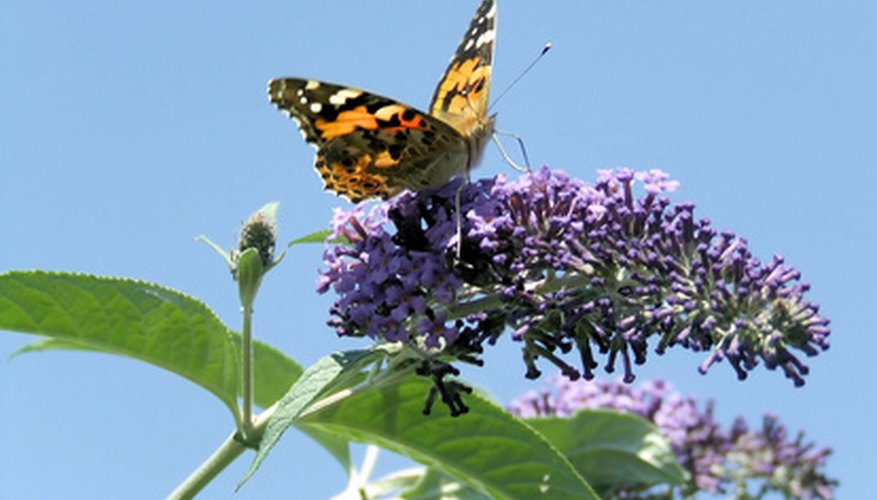 This hardy bush is native to China, where it is known as summer lilac. Butterfly bushes are known for their honey-scented flowers that come in soft shades of lavender, reddish-purple, blues and pinks, blooming on arched branches from mid-summer until the first frost. Most bushes grow 5 to 10 feet tall and, as the name indicates, attracts butterflies and hummingbirds. Butterfly bushes are deer resistant and drought tolerant, making them good choices for many types of areas. Caring for a butterfly bush takes little effort and the results are big.
Grow the butterfly bush in well-draining, consistently moist soil and full sun, although some shade will be tolerated. Don't plant too close to a wall, other plants or trees, as the bushes can grow 6 to 10 feet tall. Allow at least 6 inches of space between plants if more than one is being planted.
Water consistently each week to keep the soil moist in the first few weeks until the plant becomes established. Water once a week with a soaker hose to dampen the soil 8 to 10 inches deep once the plant is established.
Feed a butterfly bush once a year in the spring after the last frost. Sprinkle a handful of all-purpose, slow-release granular fertilizer (10-10-10) around the base of the plant, allowing the rain to soak it in.
Apply a 2- to 3-inch layer of mulch such as straw, shredded bark or chopped leaves around the bush to help retain water in the soil and keep weeds down. Apply the mulch out to the drip line under the branches.
Prune the butterfly bush in early spring before new growth appears by cutting the whole bush back to within 4 inches of the ground.