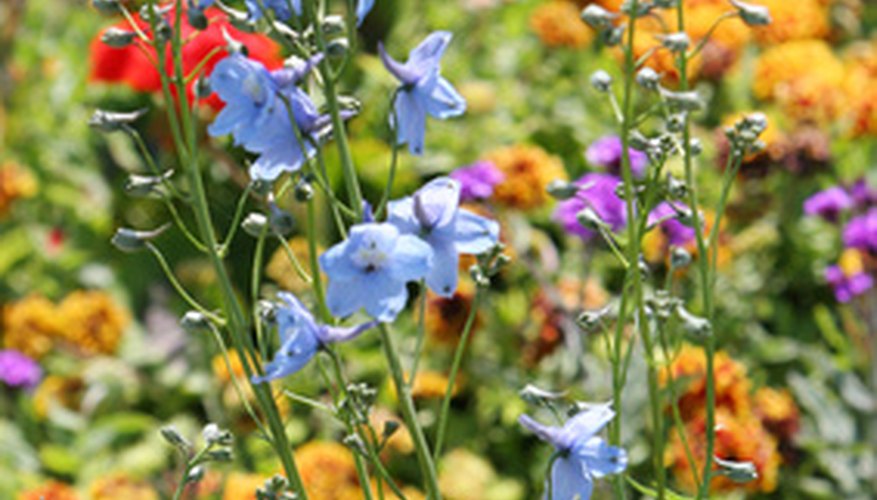 Create a vibrant front entry that greets you as well as your guests as you come in and out of the home. Making an inviting first impression on friends and family also beckons everyone outside to enjoy the front entry space. Creating a resting area using an outdoor patio set encourages you outside to enjoy your space. Also, remember the view that you'll see from the inside of the home when planning your front entry design.
Stone Path
Create a meandering and inviting stone path leading to and from the front entry way. Durable and low maintenance, slate is an ideal material to use to build the path. Its rich earth colors blend in with the landscape and when wet, deepens to a jewel-like color. Each shape of the slate piece is also different, allowing any size and width, as well as pattern imaginable. For a strolling path, 3 feet wide is ideal. This allows gardening equipment to easily fit along the path, if needed, as well as create a focal point to the front yard. Along the slate path, plant low growing, creeping plants like thyme and blue star creeper. Both hug the ground and help to define the path with their vibrant colors and textures. An added bonus, thyme is also highly aromatic and when brushed against, fills the path with its sweet scent.
Perennial Bed
Nothing creates long-lasting color like a perennial flowerbed. Perennials have the ability to come back year after year and only have to be planted once. Grown in hundreds of varieties, perennial flowers each have their own color, size, shape and texture. Each year, the perennial flower comes back fuller and taller than the year before to create a constantly evolving front yard.
A mixed perennial garden creates a whimsical touch to the front yard with its rainbow of colors. Choose perennial like daylilies and coneflowers for height and fullness. Both have an upright and clumping growth habit to fill out the bed with ease. Smaller annuals like cosmos, zinnias and petunias are ideal planted around the middle and front beds, as well as flanking the sides to create a balanced design. Sprinkle a 2-inch layer of mulch around the base of each plant to help retain moisture, prevent weeds from shooting up and keep the plants healthy and strong.
Water Feature
A trickling water feature nestled among the front entry perennial flowerbed or situated along the stone path creates a relaxing garden display. Water features are made out of materials like stone, metal and terra cotta, and come in a wide range of sizes to fit any size or shape entry way space. Container fountains are an ideal size for a front entry landscape because they do not take up too much space but still pack a big design punch. Some container water fountains are narrow, cylindrical shapes that appear as if they are shooting up and out of the ground, while others are short, wide containers that look striking nestled along a front bed to greet you as you come in and out of the home. Alongside the feature, add water-loving plants like ferns and hostas to create a lush garden display.