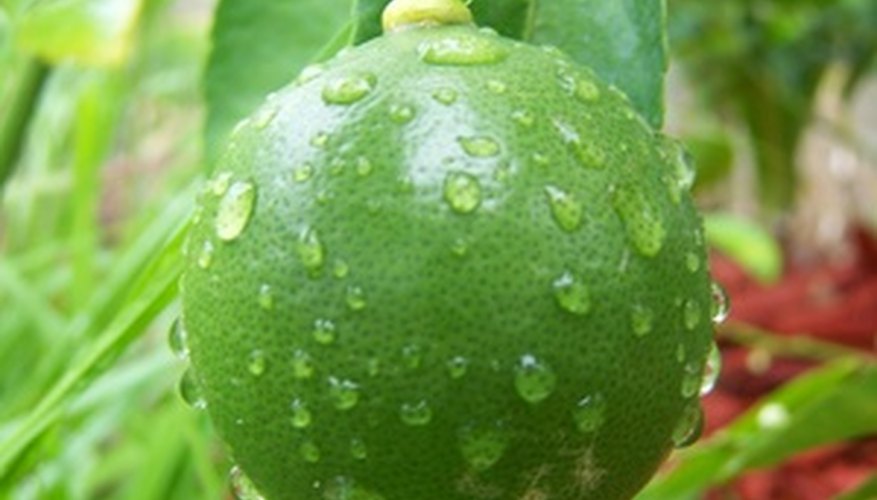 Many types of lime trees, such as dwarf varieties, can be successfully grown inside your home. The indoor growing method is ideal for enjoying these fruits because the indoor protected environment bypasses many of the problems that outdoors growers face, such as low temperatures, pests and weeds. In addition, you get to enjoy sharing your home with this fragrant tree. By providing a few essential ingredients, you can care for your indoor lime tree so that it thrives.
Place your indoor your lime tree in a container with drainage holes at the bottom, and fill the pot with sterilized soil. Position the container on top of a tray layered with pebbles to ensure that your tree gets adequate air and water circulation.
Apply a fertilizer with a nitrogen (N), phosphorous (P), and potassium (K) ratio of 2-1-1. Follow the instructions on the package for information on how much and when to feed your indoor tree.
Hydrate your tree with 1/4 to 1/2 gallon of water every five to seven days to keep the soil moist. Make sure that your tree does not become waterlogged.
Provide eight to 12 hours of sunlight a day for your indoor lime tree so that your tree blossoms and eventually produces limes. Use full-spectrum fluorescent grow lights to help meet this daily requirement.
Make sure the room temperature that your lime tree is in does not fall below 55 degrees Fahrenheit or go over 85 degrees Fahrenheit. Keep your thermostat above 65 degrees Fahrenheit for best results.
Mist the leaves of your lime tree with water in the winter months to provide humidity that the citrus tree enjoys.