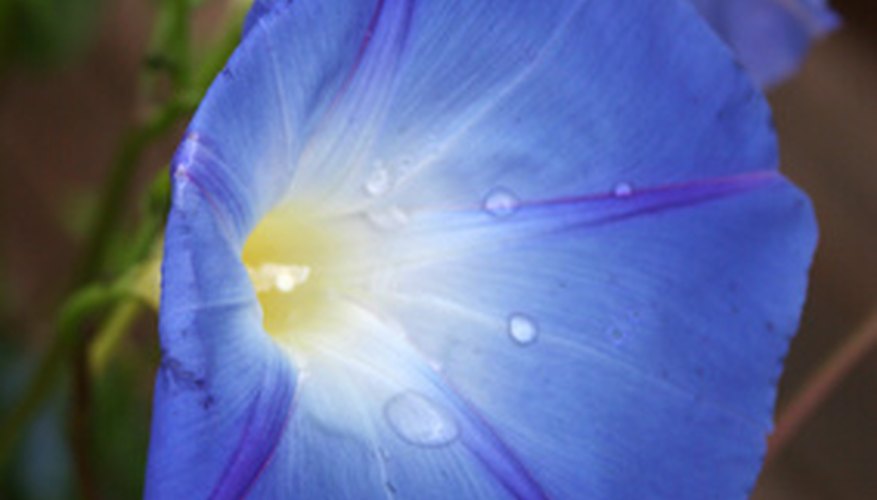 The morning glory, known scientifically as Ipomoea, is a flowering, climbing vine that grows easily. It makes an excellent ornamental near a trellis, fence post or porch railing. When growing morning glories, you can sow them directly into the ground or start them indoors. The vines are sensitive, and don't often survive transplanting, so if you sow seeds indoors, they must be sown in peat pots that are then planted directly into the soil.
Nick a morning glory seed with the tip of a metal nail file.
Soak the morning glory seeds in lukewarm water for 48 hours. This will help soften the seed coat and promote germination.
Fill the peat pots with potting soil mix, then water the pot until it is fully moist, but not soaking wet.
Insert the morning glory seed 1/4 to 1/2 inch under the soil, and place in a warm, sunny window. If planting the seeds directly into the ground, select a full-sun location with good drainage.
Plant the peat pots fully into the soil when all danger of frost has passed. Cover the top of the peat pot, otherwise it can dry out and take moisture away from the morning glory roots.
Plant pots, or seeds, 8 to 12 inches apart. Insert a stake into the ground for the vine to climb up as it grows. The stake should be at least 4 feet tall, and pounded into the ground at least 12 inches deep.
Things You Will Need
Metal nail file

3-inch peat pots

Seed-starer soil mix

4-foot garden stake
Tips
Start seeds indoors at least four weeks before the last frost date for your area. If you are sowing seeds directly into the ground, wait until after the last frost.

For vine support, you can also anchor a string to the ground by the morning glory, and run it up to a fence post or porch railing. Planting morning glory vines against a trellis is also an option, as long as it is in full sun.
Warning
If you don't give morning glories a support to climb up, they will reach out and climb around whatever they are closest to. If that is another plant, the vine can tie it up and damage both itself and the host plant.
Resources