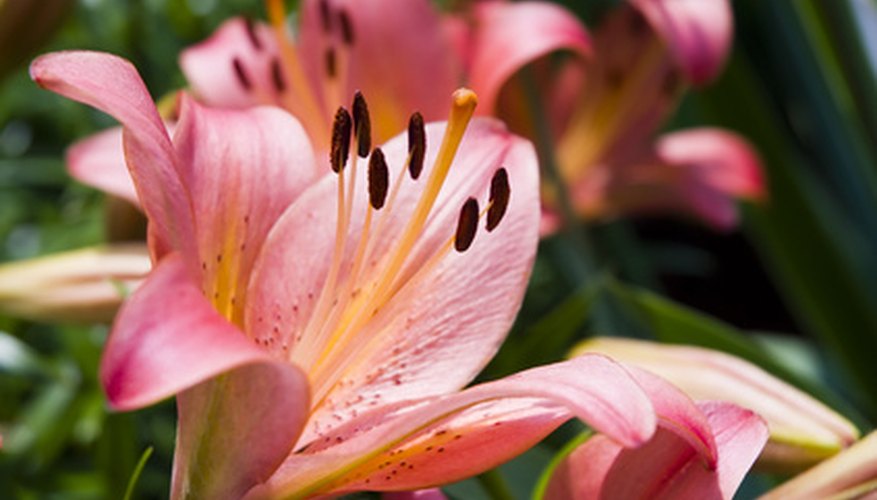 Stargazer lilies inspire "oohs" and "aahs" whenever they are brought into a room, looking every inch the great beauties they are. It is no wonder that they are florists' favorites for bouquets and arrangements that celebrate special events. Make yourself or someone else happy with a breathtaking stargazer arrangement that you can create yourself.
Symbols of Joy
The stargazer lily burst onto the floral stage in 1978. Its creator was Leslie Woodruff, an independent lily grower. Woodruff named his flower "Stargazer" for the way its blooms opened skywards. His creation was "heaven sent and heaven scent," an exquisite and fragrant hybrid flower that represents the best of both worlds. Its positive aura makes the stargazer lily an ideal choice for arrangements to celebrate a birthday, an anniversary or any other occasion with a joyful theme.
Theme Arrangements
Stargazer lilies can stand alone in a vase or a basket, but they also fit in gracefully with other special flowers, particularly roses, hydrangeas, gladioli and snapdragons. Lilies are the birth flower for the month of May and the official flower of the 30th wedding anniversary. The stargazer lily is the perfect flower to choose for these particular birthdays and anniversaries. Lilies traditionally represent honor and aspiration, so stargazers are also ideal to inaugurate a new business or to honor a graduation.
White Stargazers
White stargazer lilies make outstanding bridal bouquets, arranged with lily-of-the-valley and baby's breath, for example. They also dazzle in a clear vase with white hydrangeas and gladioli, as a table centerpiece, presented on a mirror surface and surrounded by flickering tealight candles. For a guest bathroom, a single stargazer lily combined with a single white rose or a white orchid provides an elegant welcome to your guests, perhaps placed across hand towels or next to the guest soaps. Keep in mind thought that stargazers have a very strong fragrance, so make sure your guests do not suffer from allergies.
All Pink Arrangements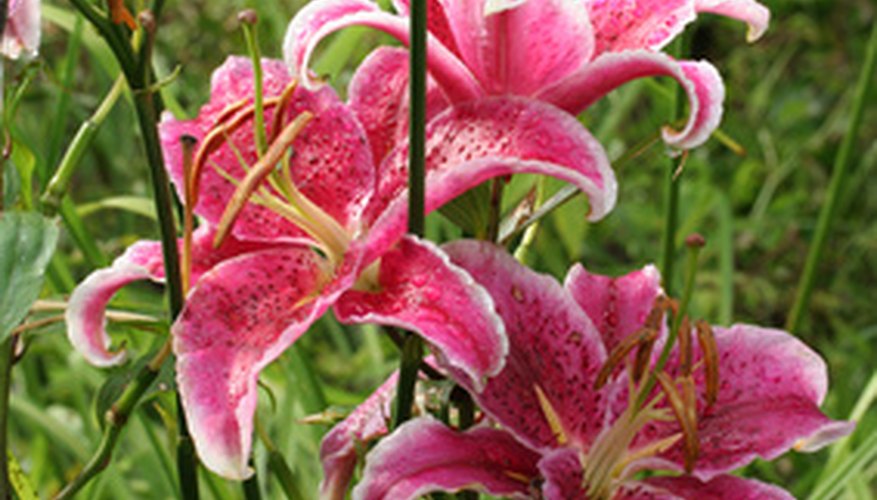 To receive a gift of deep pink stargazer lilies is to feel happy. They express thoughtfulness and caring in the language of flowers. Consider sending these ambassadors of good cheer to someone who may be depressed, or perhaps to a senior who lives alone. If stargazer lilies grow in your garden, make a bouquet or an arrangement today, and bring it over personally to someone in need of good cheer. An all-pink arrangement can include pink roses, gerbera daisies, and carnations, although you can certainly substitute other flowers too, or create a multi-colored arrangement. An all-pink arrangement would make a nice gift to welcome a new baby girl.