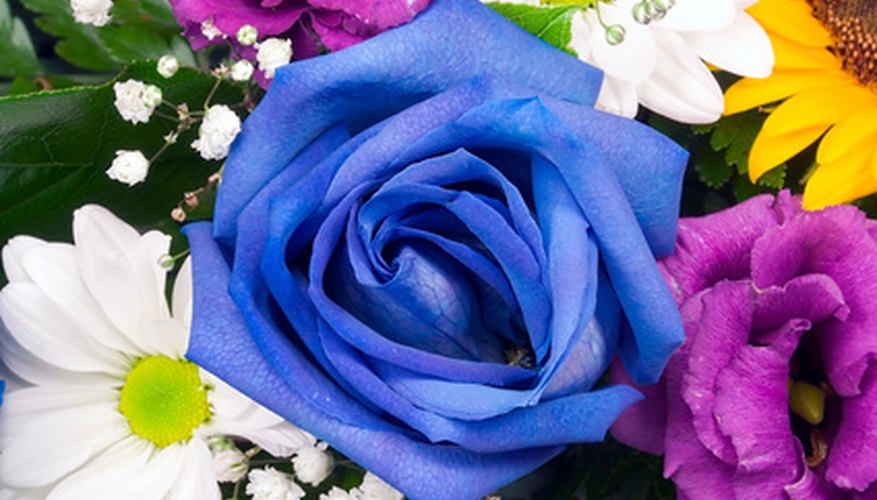 Oasis is the brand name of a product also known as floral foam. It is most often placed inside a watertight container and used to hold flowers and greenery in place as you create a floral design. Oasis floral foam can be used in very large containers as well as small containers. The water holding capacity is so great that Oasis floral foam can be soaked in water and then placed in a cage and attached to a structure--for example, an easel, banister, or door--and the flowers can be arranged directly in the foam.
Fill a sink or large container with water to a depth of 6 inches. The sink or container needs to be large enough to hold a brick of Oasis floral foam or a piece of foam that is big enough to make the base of your floral arrangement.
Place your Oasis floral foam on top of the water and allow it to soak up the water. Do not push the foam into the water. Pushing the foam into the water will create air pockets within the foam and make it fall apart easily when arranging flowers. Also, air pockets in the foam will shorten the life of the cut flowers you use in the arrangement. The foam is ready to use when it is dark green and floats just under the surface of the water.
Remove the saturated brick of Oasis foam from the water and place it in the container where you will make your floral arrangement. You may need to cut some of the foam off the brick to make it fit. Use pieces that were cut off the main brick to place around the sides of the foam to ensure a tight fit. If you are making an arrangement with lots of flowers placed at a downward angle, allow the foam to remain at an appropriate height above the rim of the container. Remember that any foam left above the rim of the container will need to be covered with greenery or flowers as you don't want it to be seen when the arrangement is on display. Also, foam left above the rim dries out quickly and becomes brittle.
Things You Will Need
Oasis floral foam

Sharp knife

Sink

Water

Container
Tip
Oasis floral foam is also available in a non-wetting variety that can be used for making dried floral arrangements.