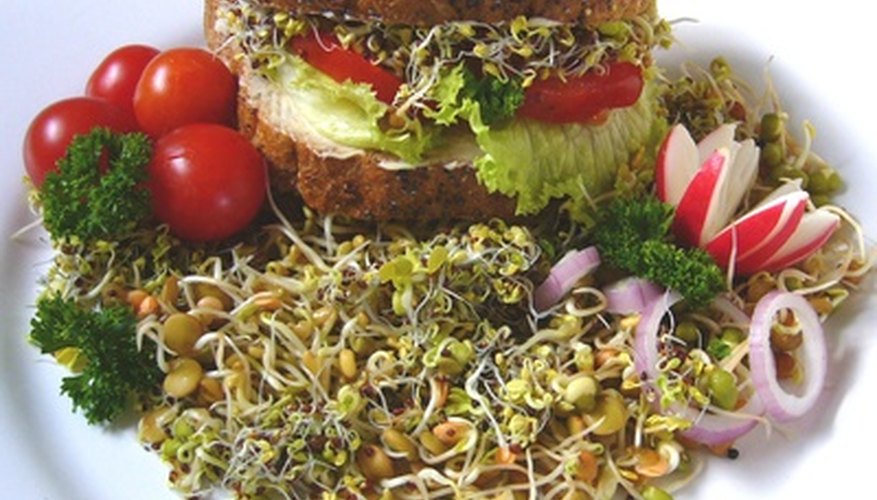 You can purchase an elaborate seed sprouter at most health food stores for a heavy price, or you can make your own at home with a glass jar or a dinner plate. That way, the only thing you'll need to purchase at the health food store is the seeds for sprouting. Choose from a variety of seeds, including the two popular favorites: mung bean and alfalfa. Fresh sprouts will emerge in as little as four days in your homemade seed sprouter.
The Jar Sprouter
Wash and dry a glass quart jar thoroughly. If you do not have a glass jar, clear plastic will work. You can also use a larger jar, if desired.
Place enough sprouting seeds into the jar to completely cover the bottom.
Fill the jar half full with cool, clear water.
Cover the top of the jar with a large square of cheesecloth and attach it to the top using a rubber band. If you are sprouting very small seeds, such as alfalfa, use a double layer of cheesecloth so the seeds cannot escape the jar.
Set the soaking seeds on the tabletop or countertop for at least 12 hours. Tip the jar over the sink to drain the soaking water from the jar. Refill with fresh water, swirl the seeds around in the fresh water and drain. Repeat this process twice daily until the sprouts are the desired size.
The Plate Method
Soak the seeds in a bowl filled with water for at least 12 hours. For mung beans, soak approximately 1 tbsp. of seeds. For alfalfa, use up to 4 tbsp. of seed.
Thoroughly wet a single paper towel and spread it out over a dinner plate.
Drain the water from the sprouting seeds in the bowl and spread the seeds out in a single layer on top of the wet paper towel.
Cover the seeds with a second wet paper towel.
Pour enough water over the top paper towel, twice daily, to keep both the top and bottom paper towel wet. Depending on the size of your plate, 1/8 to 1/4 cup of water will do the job. Harvest the sprouts when they reach the desired size.
Things You Will Need
Glass quart jar

Cheesecloth

Rubber band

Dinner plate

Paper towels

Sprouting seeds
Tips
Alfalfa sprouts should be ready to eat in four to five days; mung beans may take up to seven to reach the desired size.

Always use seed that is labeled "for sprouting," as regular garden seed may have been treated with chemicals.

Sprouts can be used on sandwiches, tossed into soups and stews or used in omelets and stir-fry.

Most vegetables and grain seed can be sprouted.