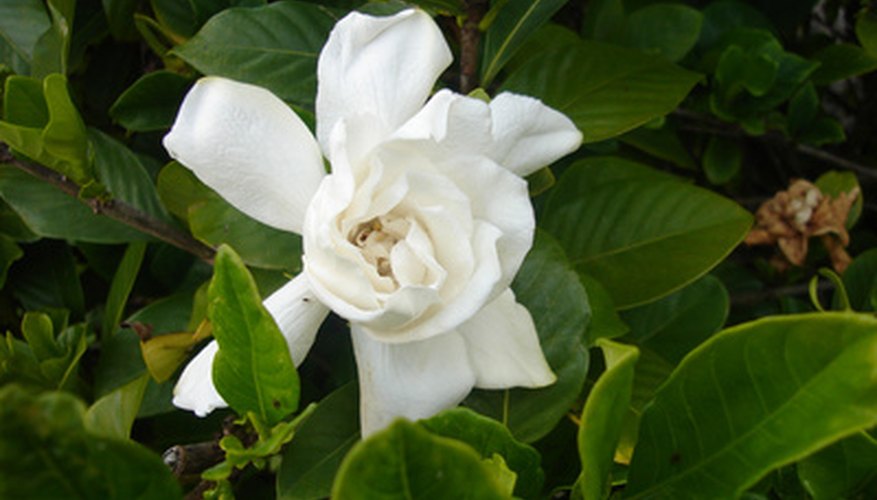 Native to China, gardenia trees are heat-loving evergreens that bloom in showy white flowers. The flowers are highly fragrant, emitting a sweet fragrance when they bloom. Growing from 2 to 8 feet tall depending on the variety, gardenias grow best in mild climates with warmer winters, although they can survive frosts. Gardenia trees enjoy an average daytime temperature of 73 degrees F and can be rather temperamental. Gardenias are susceptible to several fungal diseases that can cause the plants to decline and not bloom.
Water the gardenia tree to thoroughly soak the soil around the roots once every two days throughout the summer months. Water the gardenia twice each week to keep the soil evenly moistened and prevent the base from drying out the rest of the year.
Spread a 2- to 3-inch layer of bark mulch on the ground around the base of the gardenia tree to increase humidity and retain soil moisture.
Feed the gardenia tree twice each year in early spring and again in summer with a slow-release fertilizer for acid-loving shrubs. Follow the dosage instructions on the fertilizer package.
Prune the gardenia tree once yearly right after it has finished blooming to remove any dead, damaged or crowded growth. Clip back about ¼ of the length of the stems if the gardenia starts to look leggy.