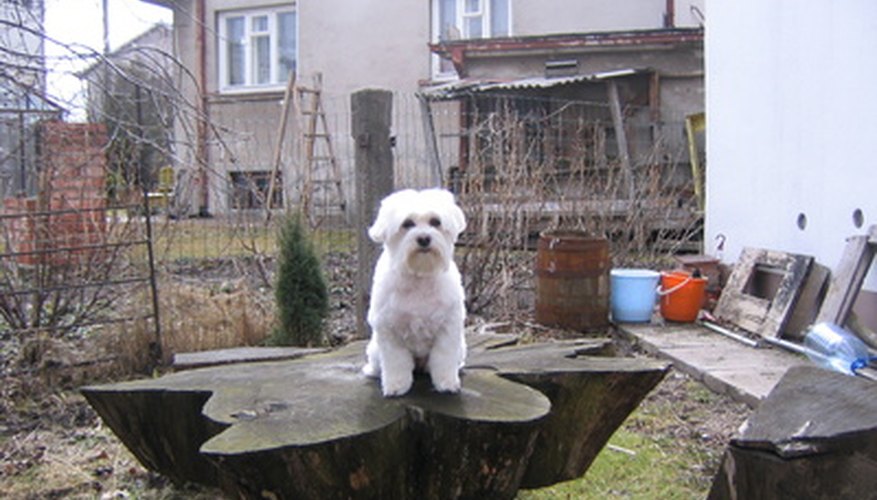 Curb appeal is a major part of your home's value. The decorations in your front yard should be chosen with their eye appeal, seasonal adaptability and ability to blend into the existing character of the neighborhood in mind. One major and two supporting focal points help draw the eye to the yard's best assets.
Identify any existing focal points in your yard, such as ornamental shrubs, healthy trees, water features or garden statuary.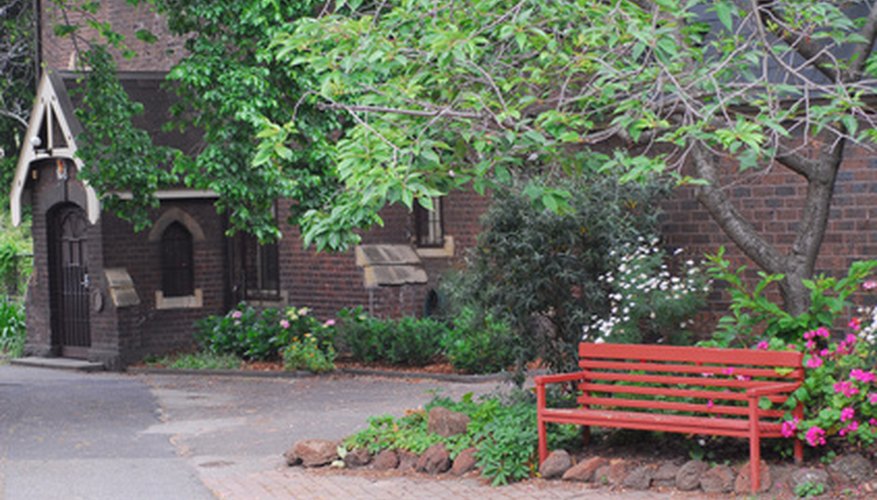 Remove any clutter, including trash, toys, yard and garden tools or other items. Trim any overgrown, withered or dying vegetation from the area surrounding each focal point.
Prune any overgrown, overhanging vegetation away from your entryway and the approach to your front door. Trim away all secondary horizontal and crossed limbs, watersprouts, sucker canes, close-V limbs and twigs and any branches that threaten your roof or gutters. You should also trim any that overhang water features in your yard.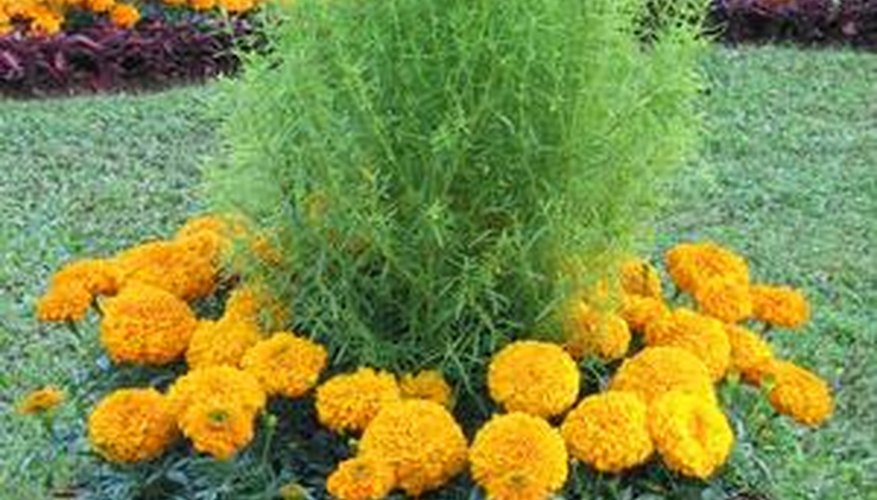 Create naturalized flower beds beside or surrounding your focal points. Begin with bulbs for your tallest flowers. Drop bulbs by the handful onto the area to be naturalized. Your tallest flowers should be grouped toward the back and sides of the focal point. Poke holes in the ground wherever the bulbs land and plant them according to their needs. Sally Ferguson of the Netherlands Flower Bulb Information Center/North America explains, "The pointy end is generally the top. The bottom, or basal plate, is generally a flatter, darker area from which the roots will grow."
Create a naturalized display of your next tallest flower. Allow a few bulbs to drop in front of the focal point, so that when they grow, they create a fringe of blooms that partially conceal the focus. Sprinkle bulbs for your shortest flowers with a liberal hand in front. Again, poke holes in the ground where the bulbs land and plant them flattest side down, with the pointed end facing the sky.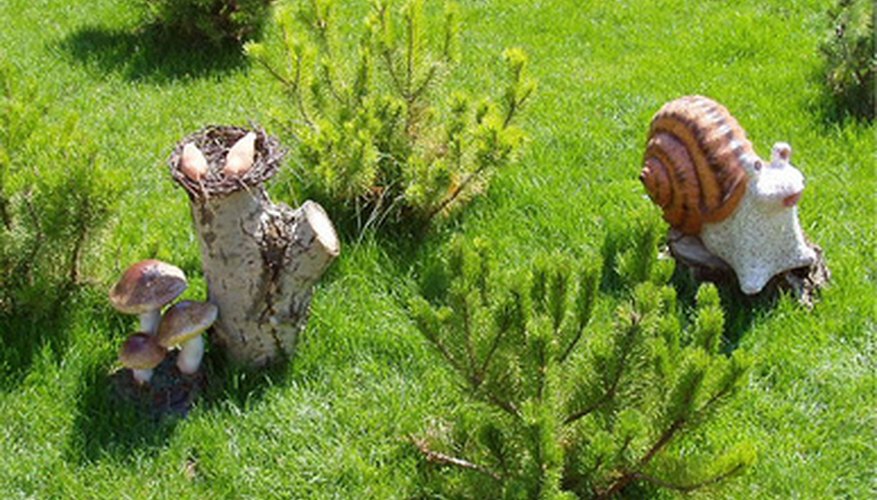 Place larger-size garden ornaments within the area surrounding your yard's focal points. Remember that less is more. The ornaments go from cute to ridiculous when there are more ornaments than visible lawn or flower beds.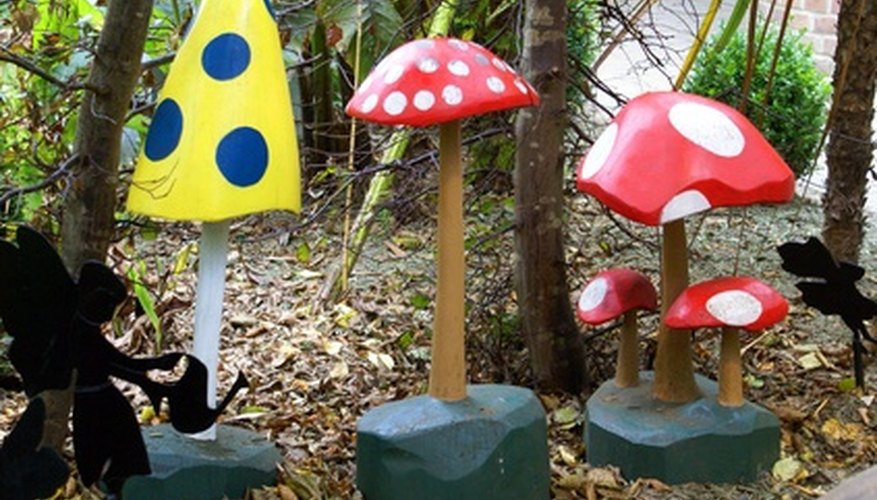 Place a few smaller ornaments in unexpected places, such as the hollow of a tree trunk or beneath a formal grouping of gladiolus, tiger lilies, cannas or other tall flowers. Let your sense of humor play tricks here by placing rabbits below tiger lilies or mice in the midst of a planting of catmint.
Use basic principles of design, such as symmetrical or formal, and asymetrical, or informal balance and proportion to help you decide whether to use single or grouped objects. Artist Charlotte Jirousek advises, "...build formal balance by arranging elements equally around a central point, resulting in radial symmetry." She creates informal balance by placing clusters of small objects around a large object.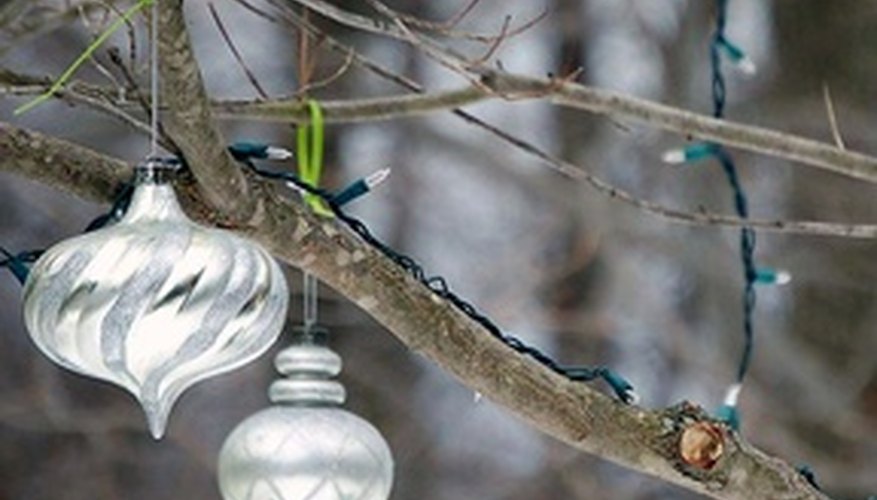 Group one to three pieces of ornamental garden furniture facing or surrounding a nearby focal point to provide a place to rest, relax and enjoy the view.
Add seasonal decorations that enhance the scene and mood you have created. String lights with care, working from the interior to the exterior and from ground to roof. Check the effect at night and adjust the amount of lighting until it is just bright enough to match the mood you want without becoming gaudy. Choose decorations that match or enhance the style and era of your home and that are in proportion to its size.