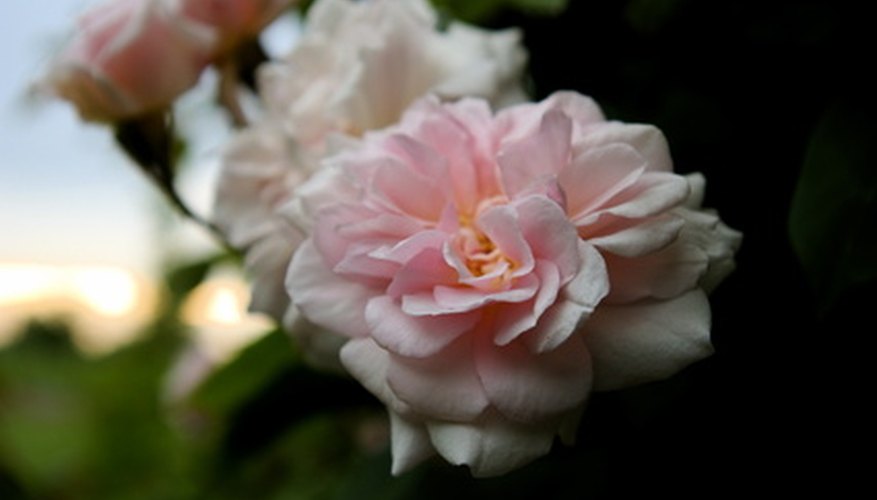 Climbing roses start to bloom beginning in summer and will continue until late fall. Climbing roses differ in this way from rambling roses, which only bloom once a season. Climbing roses add beauty to any landscape, but do require the support of trellises, pergolas or fences to hold the weight of the growing plants. Install the supports before planting the climbing roses and anchor the supports firmly in the ground. Begin training climbing roses right after planting for best results.
Tie the main rose canes loosely to the support as horizontal as possible. Spread the climbing roses out in a fan pattern on the support. These canes will grow long and should not be pruned for at least two seasons, if ever. Lateral canes will emerge from these and produce roses.
Continue to tie the climbing roses or carefully wind the main canes around the supports as needed for growth. Tie the lateral canes to the support when required.
Prune any suckers emerging from under the bud union. Prune weak, broken, dead or diseased branches on the climbing rose at any time. Deadhead (get rid of spent blooms) the climbing roses throughout the growing season to stimulate more blooms on the plant. Prune climbing roses only as needed for the first two or three years.
Prune the climbing rose in the dormant season. This runs from winter to the beginning of spring. Cut the lateral canes growing out from the main cane back to two or three buds. Prune the main canes only as needed to control growth and shape.
Untie and move the climbing roses on the supports, if needed. Always position the canes as horizontal as possible and retie. Continue to train the climbing roses throughout the next growing period.