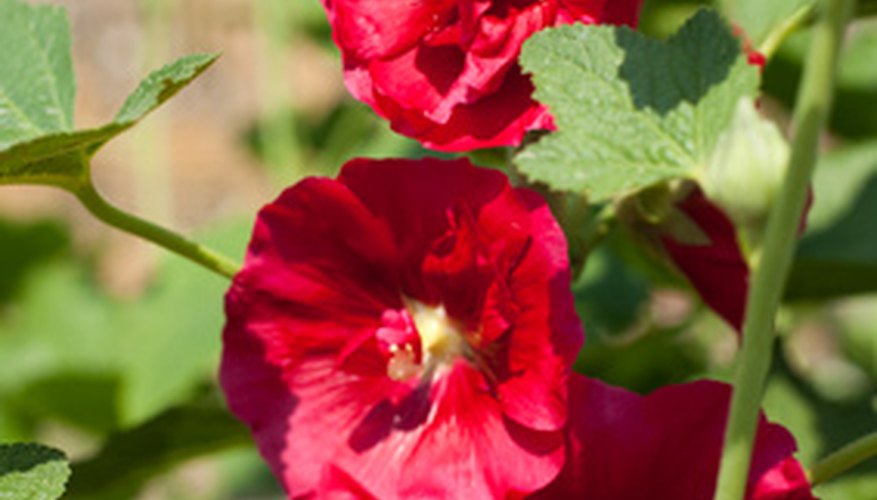 Hollyhocks (Alcea rosea), are stunning plants with colorful, spiky blooms that can tower as much as 9 feet over the smaller plants in the flower bed. Although hollyhocks are a perennial plant, they are short-lived perennials, meaning they will last only two to three years. However, hollyhock will leave a few seeds behind each year, ensuring that you'll have plenty of the old-fashioned beauties for years. Once established, hollyhocks require very little care.
Plant hollyhock seeds in an area where the soil drains well, and where the hollyhocks will be exposed to full sunlight. Cultivate the soil to a depth of 8 inches, then work in 3 to 4 inches of compost or manure.
Plant hollyhock seeds in the prepared area 7 to 10 days before the last expected frost of the season, or in late summer. Allow approximately 2 to 3 feet between each seed. Cover each seed with no more than 1/4 inch of soil.
Spread 2 to 3 inches of organic mulch around the seeded area immediately after planting. Mulch such as chopped leaves or shredded bark will deter weeds and retain soil moisture.
Water the hollyhock seeds carefully, using a hose and spray attachment, or a water can so the seeds won't be washed from the soil. Keep the soil damp. After the first year, hollyhocks will only need to be watered during hot, dry weather. Water below, and avoid wetting the foliage.
Feed hollyhocks in spring, and again in mid-summer. Use a granular or liquid fertilizer for blooming plants, applied according to the instructions on the package label.
Deadhead, or remove, spent hollyhock blooms. Removing the blooms will cause the plant to continue producing blooms instead of expending energy in producing seeds. Leave a few blooms on the stems to die naturally if you want the hollyhocks to reseed themselves for next year.
Things You Will Need
Compost or manure

Hollyhock seeds

Organic mulch

Hose with spray attachment or watering can

Granular or liquid fertilizer
Tip
Hollyhocks can also be purchased as bedding plants, and planted directly into the flower bed.