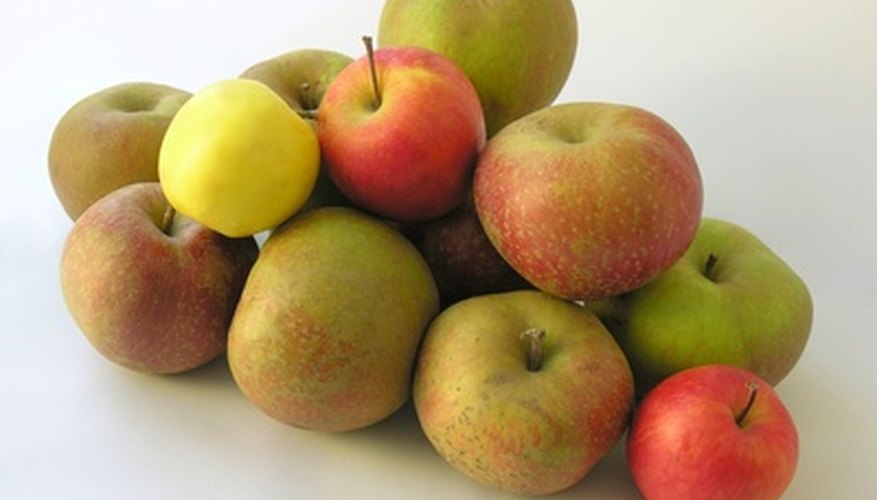 Known as a great cooking apple, winter apples usually last from winter through early spring. This variety of apples also stores the best and longest, and usually has light, sweet, crisp flavor and texture. Winter apples come in dozens of different types, but a handful of these should be recognized for their flavor, appearance and easy winter growth.
Braeburn
Braeburn hails from New Zealand, but is well known in many other countries such as the United States. This apple is medium-sized with a firm texture. Braeburn skin is mottled with red, orange and yellow splashed all over, crisp flesh and a tart sweet flavor. It can store over 1 year from harvesting date, and is ideal for pies, baking, applesauce or eating fresh. Braeburns also have an aromatic quality before they are even cut into.
Cortland
From Geneva, New York, the Cortland winter apple gained popularity in 1915. This large, circular, smooth apple is bright shiny red with flat ends and has a flesh that is resistant to browning. The flesh is very crisp, perfect for being diced into salads. Since this variety stays firm even when baked, it is also ideal for baking, oven-cooking, applesauce, desserts and grilling. Unfortunately, this type of winter apple does not store as well as the others.
Fuji
Native to Japan and China, this variety came to the United States in the 1980s. Fujis are attractive with yellow to green skin and a blush red across the sides or top. They grow medium to large sized, with juicy flesh and a sweet, honey-tart flavor. This variety is ideal for applesauce or to eat fresh. Fujis do not bake as well as the other winter varieties because of the firm texture.
Rome Beauty
Rome Beauty, otherwise known as Red Rome, hails from Ohio and stores for about 7 months after harvesting in the late fall. This variety grows from medium to very large, and comes in colors ranging from red to green. Rome Beauties are very round with tough skin and a crisp tart flesh that is firm. This winter apple is one of the best for baking because it retains the sweet flavor and firmness.