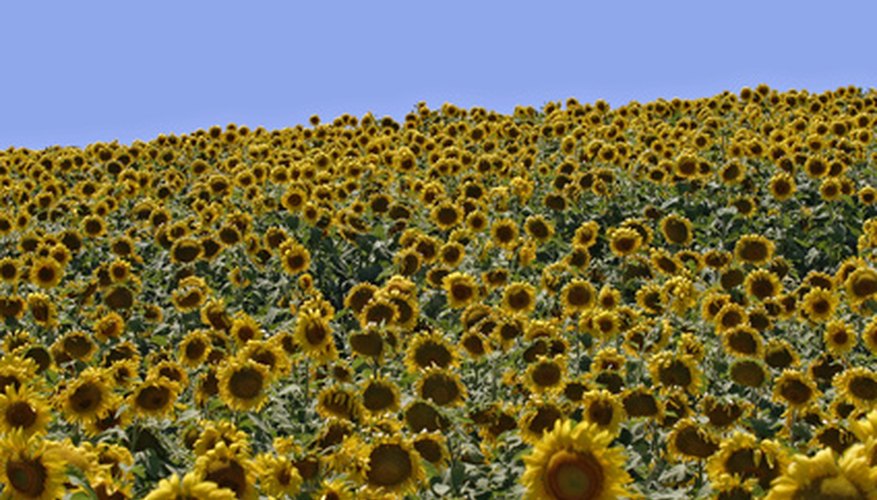 Sunflowers are grown not only for their ornamental beauty, but also for the seeds, which make a great snack. Sunflowers get their name from the fact that they will turn in the garden when they are young to follow the sun as it moves across the summer sky. Sunflowers are native to North America, and Native Americans and settlers have eaten the seeds for centuries.
Watch for the flower petals to begin falling off the sunflower seed head. This is the first sign that the sunflowers have reached maturity.
Cover the seed head with a paper bag or cheesecloth to prevent birds from eating your harvest.
Cut the seed head from the stems when the disk at the back of the head has turned dark brown.
Rub two sunflower seed heads together over newspaper or a large bowl to remove the seeds from the head. If you only have a single sunflower head, you can rub your palm over the seed head to loosen the seeds.
Store the raw seeds in a cloth bag or pillow case in an area with good ventilation.
Things You Will Need
Mature sunflowers

Paper bags or cheesecloth

Scissors

Newspaper or large bowl

Cloth bag or pillowcase
Tips
Sunflower seeds can be eaten raw or toasted. To toast sunflower seeds, spread them in a single layer on a cookie sheet and bake in a 375 degree oven for 10 minutes or until the shells start to crack.

Sunflowers are relatively simple to grow, but do need full sun.