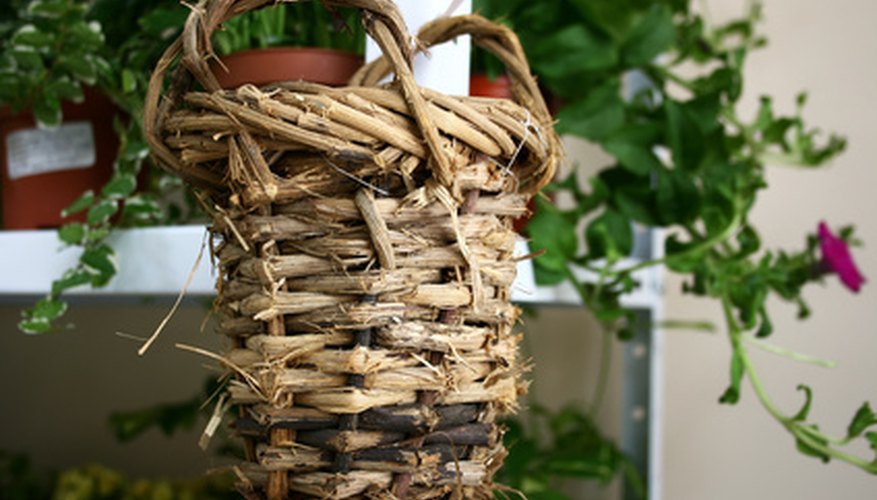 Container gardens present the perfect opportunity for a gardener to express his or her preferences in outdoor décor. Containers can literally be anything that holds soil and allows water to drain freely from the planter. Gardening container ideas include everything usable in the landscape, as well as objects from inside the home. Some innovative containers include old boots, feed troughs and half barrels. Gardening containers should add interest to the landscape and provide a suitable backdrop for the foliage and flowers within.
Claw-Foot Tub
It's not every day that someone comes across a claw-foot tub filled with rioting flowers. Visit antique stores, flea markets or estate sales to find one of these ornate tubs. Drill a few holes into the bottom for drainage and place the plant in a permanent location. Fill it partially with bark mulch or empty soda cans to take up some of the wide expanse of room in the container. Tailor your plant choices to the sunlight available in the location. Some ideas include trailing plants to cascade over the sides, such as petunias or verbena. Choose perennials for interesting foliage or to limit the maintenance on the container garden.
Old Wicker Chair
A chipped, peeling wicker chair tucked into a secluded section of a garden with flowers blooming from the seat and trailing across the arms of the chair creates a whimsical feel. To create a chair garden, pop off the seat of the chair, or in the case of wicker, cut away enough space to accommodate a wire hanging basket and coconut liner. Secure the planter to the chair using wire ties or gardeners wire. Fill the planter with any type of plants and place the garden chair planter as a centerpiece in your garden.
Basket Containers
If old chairs and wash tubs aren't available to add a decorative touch to your patio, take a look at your basket supply. Baskets add texture to a floral arrangement and flatter every plant placed inside. Spray the basket with polyurethane to protect it from the elements. Line the basket with a sheet of coconut liner or loose sphagnum moss. Plant annuals in a riot of color to decorate the center of your outdoor eating space. Baskets complement foliage plants as well by providing muted tones to offset the brilliant foliage. The best part about a basket container is that you don't need to worry about drainage holes. Water the container on the ground to limit the mess on tabletops.