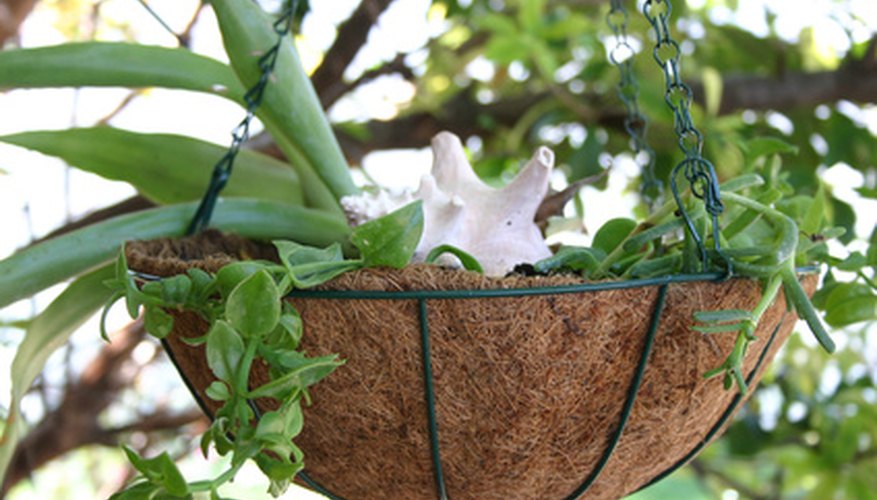 Hanging baskets provide a wonderful means of expanding garden space. They also allow gardeners to plant a wide variety of trailing and upright plants. However, moving hanging baskets presents challenges. The trailing vines can easily be damaged or broken and there is also the risk of the plant drying out or tipping over. It's always best to move baskets yourself if that is possible. If not, there are some steps you can take to ease the strain on your plants.
Moving Yourself
Water your plant the day before moving.
Gently place all the training stems from the basket up into the center of the basket. You can lay the stems directly on top of any plants growing upright in the basket. Weave them into the plants in the center of the basket so there is no chance of them getting loose.
Protect your car by wrapping the basket in a waterproof material such as plastic and placing it in a cardboard box.
Pad the area around the basket with rags, towels or objects that are heavy enough to keep the basket from wobbling or tipping. Leave the top of the box open to allow the plant to breathe.
Prepare a space in your vehicle to place the box. You will also need to plan for stability of the box by determining what items will be around it and making sure that the box will not have room to shift position or tip over.
Take care of your plant on the road. Park in the shade when traveling in hot weather and in the sun if it's cold. Water your plant if it dries out.
Moving With a Professional Moving Company
Check with the moving company a few weeks before moving to see if they are able to move plants.
Check with the Department of Agriculture if you are crossing state lines because some states have strict rules about flora.
Ask your moving company for a box to pack your basket yourself.
Water your plant the day before moving.
Line the box with plastic.
Pack as you would for a personal move by wrapping the stems up into the plant and stabilizing the basket in the box with towels.
Dampen the towels with water if the weather is very warm.
Add tissue paper or plastic foam peanuts over the top of the plant to protect it.
Punch holes on the sides of the box and write "PLANT" on the outside. Instruct the movers to load your plant last so you can remove it first when the movers arrive at your new home.
Things You Will Need
Plastic sheeting

Cardboard box

Padding (rags, towels or heavy objects)

Lightweight tissue paper or plastic foam peanuts
Tips
Unpack your plant first. Set it in the shade to recover.

If you need to pack your plant in the trunk for more than two days, take it out when you stop for the night so it can get a little sun and air.