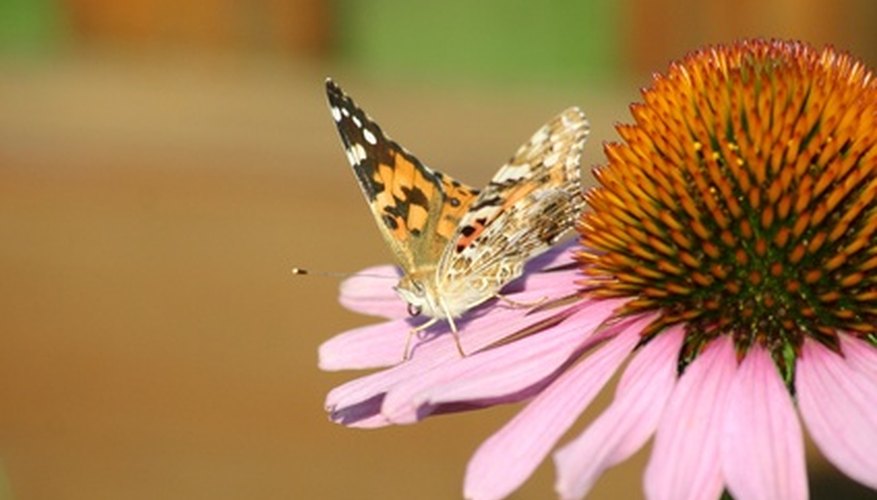 Echinacea is also referred to as purple coneflower. It can grow to a height of 5 feet tall, and its purple petals attract butterflies from a distance. Echinacea makes a dramatic backdrop to any flower bed, and if you currently have some growing in a particular spot, but would like to plant them in other areas of your yard, you can easily do so by harvesting the seeds. According to the USDA National Plant Data Center, you should not harvest echinacea seeds until after their second year of growth.
Stop watering your echinacea plants when the cones, which are also the seed heads, begin to mature. The seeds don't need additional water to develop, and continued watering will simply prolong the seed drying time. The time to stop watering is early autumn.
Select your best echinacea flowers to harvest the seeds from.
Cut the cone heads off, taking 6 inches of stem in the cutting. Place the cut heads, upside down, in a paper bag.
Allow the cone heads to dry for up to a week. You will want to make sure there are not so many in the bag that there is not adequate air flow, and you must place the bag in a dry area.
Put on garden gloves and break the cone heads open over a mesh screen. The screen will catch the seeds and cone debris. Separate the debris from the seeds.
Store the seeds in a paper envelope or plastic bag in a dry, cool location.
Things You Will Need
Garden shears

Paper bag

Screen

Garden gloves

Paper envelopes
Tip
Echinacea seeds can be stored for up to three years.
Warning
Do not allow moisture to get on seeds during storage, as it can cause mildew and contaminate the seeds.
References