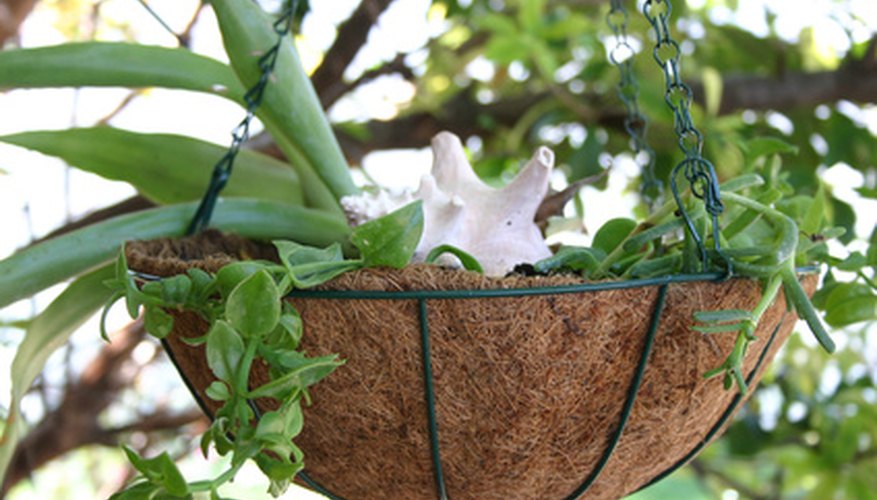 hanging plants image by Allyson Ricketts from Fotolia.com
When preparing the garden areas for winter, gardeners often overlook cleaning and storing hanging baskets. As depressing as this task might be, storing a hanging basket protects the often-expensive container from damage during the cold months of the year. The task of storing these baskets should be part of the regular cleanup and removal of summer blooming bedding plants. Proper preparation and storage let you easily plant flowers the following year.
Pull every annual plant out of the hanging basket. Discard the plants into the yard-waste bag. Loosen the soil with a trowel and dump the dirt into the compost pile or yard-waste bag.
Scrape the inside of plastic hanging baskets clean and rinse loose potting soil out with a garden hose. If you have wire baskets with coconut-fiber liners and you would like to reuse the liners (see Tip), shake free as much dirt as possible from the coconut liners. If the liners are damp, place them flat in the sunshine for three to four hours to dry. Wipe down wire baskets with a damp rag. When everything is dry, replace the liners for storage.
Fill the laundry tub with warm water and add two capfuls of regular dish detergent. Scrub the inside and outside of each pot, using a brush to remove mineral deposits, built-up soil and dirt. Rinse repeatedly until the pot is completely clean.
Pull the plug on the laundry tub to allow the water to drain. Refill the tub with warm water and add bleach at a ratio of 1 part bleach to 10 parts water. Submerge plastic hanging baskets in this sterilizing solution for 30 minutes to remove pathogens, diseases and pests that can create problems for your plants the following year. Remove the hanging baskets and allow the plastic to dry completely before storage.
Install two bicycle hooks spaced 7 1/2 feet apart into the ceiling of the garage or planting shed, following the recommended installation instructions provided with the hardware packaging. Place an 8-foot dowel on the hooks to provide a rack for storing hanging baskets for the winter.
Suspend your clean, dry hanging baskets along the length of the rod for easy access when you're ready to plant the next year.
Things You Will Need
Yard-waste bag

Trowel

Scrub brush

Garden hose

Rags

Bucket

Bleach

Dish detergent

Laundry tub or sink

2 ceiling S-hooks

8-foot closet dowel
Tip
Coconut-fiber liners should be replaced every year to limit the transfer of disease to new bedding plants. If you choose to reuse the liners, allow them to dry completely before storage.