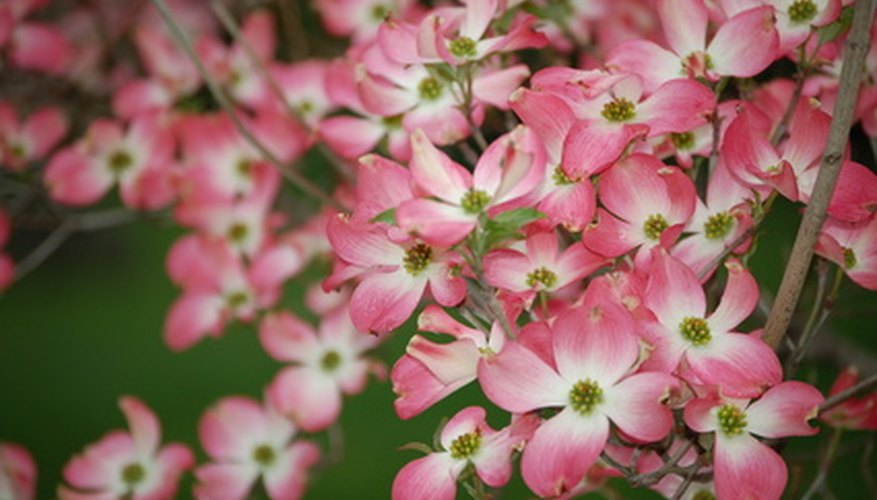 It is not difficult to find red-flowering dogwoods. It is, however, difficult to find dogwoods that are consistently described as having red flowers. What some call red, others refer to as some shade of pink. It should also be noted that, technically, no dogwood variety actually produces red or pink "flowers." Dogwood flowers are actually small greenish-yellow clusters. The clusters are surrounded by modified leaves known as "bracts." It is the bracts that are colored red and most often referred to, along with the actual flowers, as the flower.
Cherokee Brave
Cornus florida "Cherokee Brave," also known as Cornus florida var. rubra "Cherokee Brave," is known for its vigorous growth. It grows 15 to 30 feet high with a 25- to 35-foot spread. It produces flowers surrounded by deep red bracts that fade to white in the center. Bloom time is in the late spring, usually in May. New foliage is burgundy-red, but turns green as it ages. Cherokee Brave is known to be resistant to powdery mildew.
Cherokee Chief
According to Bernheim Arboretum & Research Forest, Cornus florida "Cherokee Chief" is one of the most popular of the red-bract dogwoods. It blooms in the spring and its rose to ruby red bracts are not as dark as those found on Cherokee Brave cultivars. New growth is also red. It has a moderate growth rate and a moderate resistance to mildew. It can grow up to 20 feet tall with a slightly smaller spread. In the fall, its green leaves turn a bronze red to crimson color. It is hardy in USDA zones 5b through 8a.
Cherokee Sunset
Cornus florida "Cherokee Sunset" has bracts that can vary in color from purplish-red to light red to deep pink. Its leaves are also colorful and turn from reddish-purple in the spring to a variegated yellow and green. Then, in the fall, the leaves turn colors back to a reddish-purple. It can grow up to 25 feet tall with a similar spread and has a moderate to vigorous growth rate. Summer foliage does not burn and it is reportedly resistant to anthracnose. It is hardy in USDA zones 5 through 9.
Purple Glory
Despite its name, Cornus florida "Purple Glory" produces bracts that are reddish-maroon, although they are sometimes described as purplish. Its name comes from its leaves, which go from reddish-green to purple and then to reddish-purple as the seasons change. It is resistant to spot anthracnose but susceptible to stem canker and powdery mildew. It has a slow growth rate and only reaches a height of about 15 feet with a similar spread.
Royal Red
Cornus florida "Royal Red" is also known as Cornus florida var. rubra "Royal Red." It produces large, deep red bracts in the spring. New foliage is also a deep blood red in the spring. Fall color is also red. This tree grows about 8 feet tall and is hardy in USDA zones 5 through 8.
Sweetwater Red
According to North Carolina State University, Cornus florida "Sweetwater Red" is the strongest growing red dogwood. It grows about 20 to 30 feet tall with a similar spread. In the spring, it produces flowers surrounded by deep red bracts. Foliage is also continuously reddish, although it turns a reddish-purple in the fall. It is hardy in USDA zones 5 through 7.
Other Red Flowering Dogwoods
A few other cultivars of Cornus florida are also reported to produce red bracts. "Heart Throb" produces large reddish to rose-pink bracts in the spring and deep red foliage in the fall. "Red Beauty" produces large, dark red bracts on dense branches. It grows about 6 to 10 feet tall. "Reddy" had red bracts along with red leaves. "Spring Song" and "Red Cloud" are two additional red-flowering dogwoods.