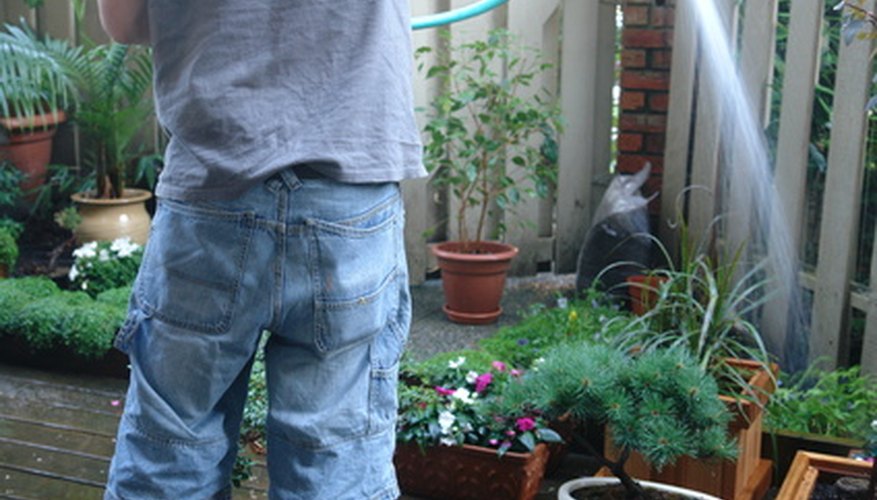 Americans consume nearly 18 pounds of fresh tomatoes each year, serving them in fresh garden salads, sliced on burgers or in subs loaded with meats and cheese. These tender perennials grow well in the home garden, making them a popular plant for the family garden. When protected from spring and fall frosts, tomato plants produce abundant fruit throughout summer and into the fall. The best way to water tomato plants is to provide consistent moisture, which increases production of vine ripe fruit.
Water tomato plants grown in containers at least once a week. Water until water runs free of the bottom of the container and allow the soil to dry before watering again. Check plants daily for any signs of wilting and adjust your watering schedule accordingly. Container-grown tomatoes may require daily watering, depending on the size of the container, plant growth and weather conditions.
Saturate the soil of garden-grown tomatoes to the root level once a week with a hose or sprinkler. Frequent light watering encourages roots to form at the surface of the soil, which will not provide the support required of these massive plants. Deep watering encourages strong roots capable of supporting the plant and absorbing adequate nutrients from the soil.
Combine watering with the application of foliar feeder by using a garden feeder attachment on your hose. Fill the tub of the garden feeder with the appropriate amount of fertilizer following the directions on the package. Water by spraying the foliage of the tomato plant, allowing the excess water to saturate the soil. Plants absorb nutrients through the leaves, as well as the soil.