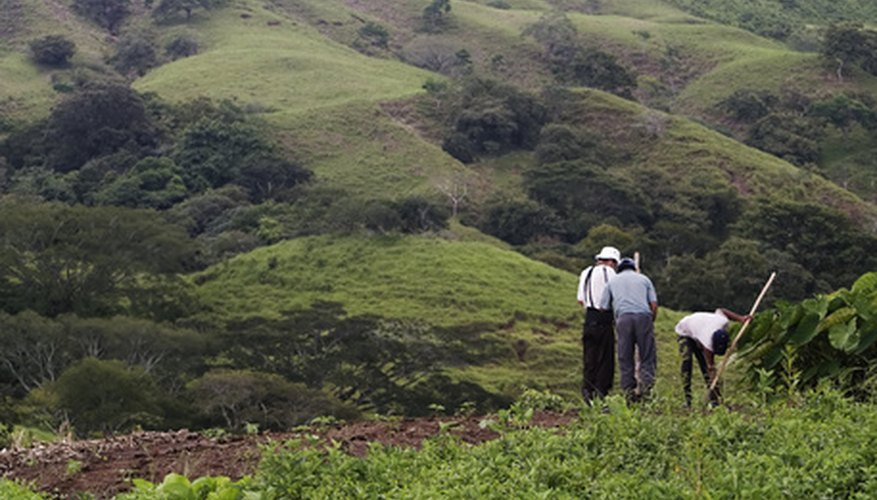 The Old Farmer's Almanac has been used as a guide by farmers since 1792. The original editor, Robert B. Thomas, devised a weather forecasting formula based on his observations of natural cycles. The same formula is used today and is kept secret by the publishers. The almanac provides a guideline for when to begin planting seeds either indoor or outdoors. It also has recommendations for the best times to plant seeds by the moon.
Select the types of vegetables you would like to grow in your garden. Make a list in your notebook.
Find the Farmer's Almanac Planting Table in either a printed copy or go online at almanac.com/gardening/planting-dates.
Type the city and state where you live in the location space above the planting table on the website, or find the regional planting table in your printed copy.
Decide where you plan to start plants such as squash, pumpkins, melons, lettuce, cucumbers, cauliflower, cabbage or broccoli indoors. These plants can be started in trays indoors or seeded directly into a garden bed. Tomato, pepper and brussels sprout plants are always best started indoors.
Decide if you want to plant your seeds by the moon phases. The Farmer's Almanac provides alternative planting dates for those that like to plant by the moon. The moon is believed to affect both water levels in the soil and seed development.
Find each of the vegetables you are planting in the chart. Check the first column of the chart for the best dates to start indoor plant seeds, and the second column for starting indoor plants by the moon.
Check the third column of the chart for the best time to plant outdoor plants, or the fourth column if you plan to plant outdoor plants by the moon. Write the dates you've chosen by the vegetable in your list to guide you while planting your garden seeds.
Things You Will Need
Farmer's Almanac

Notebook
Resources