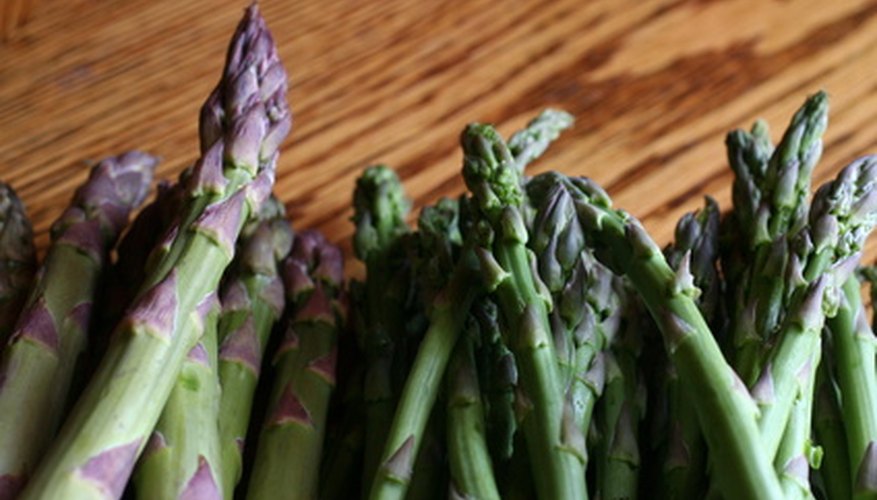 Asparagus is a popular vegetable that thrives in areas where the winters are quite cold. The vegetable requires cold freezing ground to flourish the following spring and summer. Asparagus can be successfully started from seeds, but harvest can be delayed several years, so it's advisable to start asparagus using crowns (dormant roots) for earlier harvest. Utilizing crowns also allows the gardener to choose to plant only male asparagus plants, which produce larger and more abundant spears.
Purchase male crowns that are healthy. Crowns should appear similar to a plump, well-cooked strand of spaghetti noodle. The crowns should not appear rotted or dried out. Planting a dozen crowns will feed one adult for a season, so get an idea of how many crowns you will need to supply your family with sufficient asparagus.
Choose a planting location that offers full sun with well-draining soil. The ideal soil pH for asparagus is 6.5 to 7.5. Remember that the foliage of the asparagus plant will easily tower 5 feet in height.
Dig a long garden trench that is approximately 12 inches deep. Work aged manure into the garden soil at a ratio of 50 percent manure with 50 percent garden soil. Work bonemeal into the soil at a ratio of 1 pound for every 20 square feet. Once all the soil, manure and bonemeal have been added to the trench, it should be approximately 6 inches deep.
Plant the crowns 18 inches apart in the trench. Place 3 inches of soil and aged manure over the top of the crowns. Water the trench thoroughly.
When the asparagus begins to grow, add an inch of soil each week until the trench is completely filled in and the asparagus stands 12 to 18 inches tall.
Place 3 to 4 inches of mulch over the asparagus. Replace the mulch as needed throughout the growing season. The mulch will keep weeds at bay and the soil moist.
Water the asparagus often. The plants enjoy moist soil conditions that are not water-logged
Allow the foliage to yellow and die back naturally in the fall and winter. Remove the dead foliage and dispose of it.
Harvest the asparagus when it is 2 years old. Only harvest a few spears over a two-week time span and then cease harvesting until the next year. Harvest should take place in the late spring or early summer.