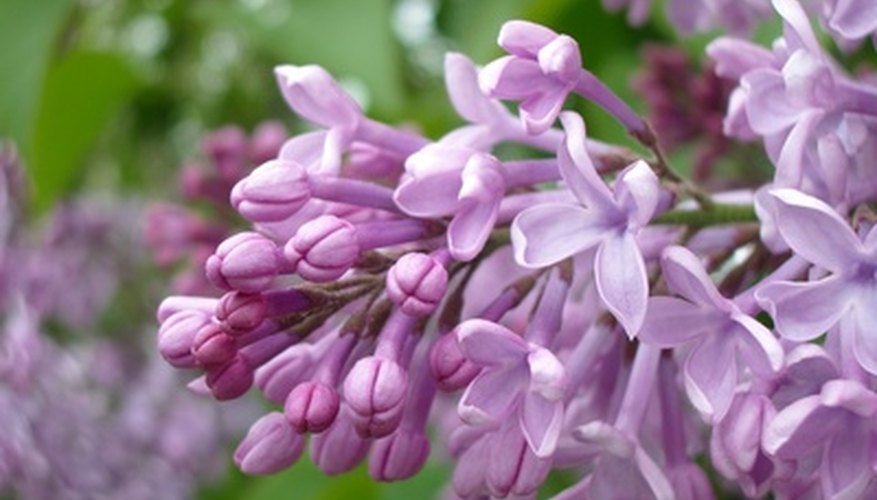 Xeriscape gardening seeks to conserve as much water as possible. A xeriscape garden focuses on native and drought-resistant plants and water-wise gardening techniques, such as using mulch to prevent water from evaporating quickly, and drip irrigation systems to focus water exactly where it's needed. Colorado's high-desert climate and the scarcity of water in many areas of the state make xeriscape a wise choice for home landscaping.
Shrubs
Apache plume (Fallugia paradoxa) produces white and pink flowers in the spring, followed by feathery pink seedheads that last until after frost. This attractive plant grows 4 to 6 feet and is hardy in zones 4 to 8. Lilac (Syringia sp) don't require a lot of water once they're established. These hardy shrubs produce fragrant white to purple blossoms and can live for many years. While dwarf lilac bushes may measure only 5 or 6 feet, some lilac species can grow up to 30 feet tall. Lilacs are hardy in zones 3 to 7, making it suitable for higher elevations in the Rocky Mountains. Potentilla (Potentialla sp) grow wild in some areas of Colorado. In the southwest portion of the state, you can obtain permits from the National Forest Service to dig up potentilla from the wild. These small-leaved shrubs produce yellow, five-petaled flowers, leading to another common name, cinquefoil, which means five leaves. Potentillas attract butterflies and make an attractive hedge. The plants are hardy in zones 2 to 6.
Trees
Native Colorado trees fit well in xeriscapes. Pinyon pine (Pinus edulis), with its dark green needles, rough gray bark and often twisted form, makes it an attractive addition to the landscape. Pinion pine will grow from zones 5 to 10 and to elevations up to 7500 feet. Limber pine (Pinus flexilis) and Colorado spruce (Picea pungens) are two other Colorado native evergreen choices for xeriscapes. Chokecherry (Prunus virginiana) produces fruit that is popular with birds. The trees can grow to 20 feet, but are slow-growing. They're hardy from zones 4 to 8. Crabapples (Malus sp) are another ornamental choice for Colorado xeriscaping. Crabapples produces a profusion of dark pink blossoms in the spring, followed by tart fruit in the late summer. Crabapples attract wildlife and can also be used to make jelly. Crabapples grow in zones 4 through 8.
Flowers
A low-water garden can include flowers. Many flowers, especially wildflowers, will grow well with little supplemental water. California poppy (Eschscholzia california), though not native to the state, will produce masses of silky gold blossoms when planted in Colorado gardens, and will often re-seed itself. The flower grows in zones 6 to 9. Portulaca (Portulaca grandiflora) is a low-growing plant with colorful round blooms. Sometimes known as moss rose, portulaca makes a good ground cover or an addition to a rock garden, where it will grow between stones. This annual will grow in almost any zone. The bright yellow blooms of coreopsis (Coreopsis sp) present a sunny face in the garden. Sometimes known as tickseed sunflower, coreopsis grows wild in some parts of Colorado. In the garden, it's hardy from zones 5 to 9. Butterfly weed (Asclepias tuberosa) attracts butterflies with bright red blossoms. A member of the milkweed family, butterfly weed grows in zones 4 to 10.